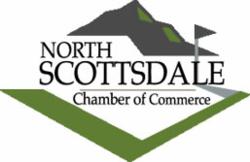 We're thrilled to have had such great attendance which not only generated new memberships, but also laid the foundation for future business opportunities for our members
Scottsdale, AZ (PRWEB) November 09, 2011
The numbers in and the numbers are great! Having recently closed out their much anticipated five year anniversary celebration and tradeshow, the North Scottsdale Chamber of Commerce (NSCC) has announced record attendance of over 1,000 entrepreneurs, members and networkers.
The free community event held at Chamber headquarters showcased the rapid growth of the NSCC and the viral networking influence of its members. In addition to breaking attendance records, the Chamber also completely sold out of vendor booths, setting the stage for an evening of power networking and development of future business relationships.
Sponsored by the Bank of Arizonam, the NSCC's anniversary event was just as entertaining as it was productive featuring live music, free food and drink and a silent auction benefitting several member charities including Gabriel's Angels, OCJ Kids, M.A.S.K. and Child Help, all of whom were provided vendor space at no cost. The NSCC would also like to thank additional sponsors: Pro Em, 12 News, The Phoenix Business Journal, Studio Scottsdale and Two Gals Event Planning.
"This year's anniversary celebration exceeded all expectations," explained Tom Lockhart, CEO of the North Scottsdale Chamber of Commerce. "We're thrilled to have had such great attendance which not only generated new memberships, but also laid the foundation for future business opportunities for our members."
The NSCC looks forward to its next signature networking event in spring 2012—preregistration is available by visiting http://www.northscottsdalechamber.org
About the North Scottsdale Chamber of Commerce:
The North Scottsdale Chamber of Commerce (NSCC) was founded in October 2006 by six business men and women as an organization committed to supporting local businesses and building a better community. Today the Chamber has more than 650 members, with more members of the business community joining each week. Our Mission: To set the standard for excellence in member service, community collaboration, business growth, and achieving a high quality of life in the North Scottsdale area, and to be recognized as a powerful force for good in our community. Additional information can be found at http://www.NorthScottsdaleChamber.org.
# # #