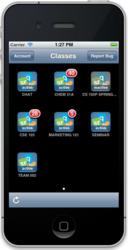 Palo Alto, CA (PRWEB) November 08, 2011
Piazza, the online Q&A platform for students and instructors, today announced the immediate availability of free applications for iOS and Android mobile platforms, allowing students to share ideas and get answers from anywhere at any time. The company also released new metrics, highlighting explosive growth as students average over four hours per day on the Piazza site. Users currently make more than 40,000 answers and edits each week while viewing more than one million questions. With the addition of Piazza's easy-to-use mobile applications, user engagement is expected to increase at an even faster rate.
"Adding mobile apps was a natural progression for Piazza as we remove another barrier for students who want to collaborate and learn from one another," said Pooja Nath Sankar, Piazza's Founder & CEO. "After all, students are on their phones constantly. Now they can make the most of those on-the-fly conversations that spark valuable insights. They can share their knowledge at any time, particularly when pulling out a laptop is not convenient."
Piazza is a free online collaboration platform that allows students and instructors to help each other quickly find high-quality answers to difficult questions. No download or installation is required to access Piazza, and instructors can sign up at will. Leading campuses across North America have thousands of Piazza users, including Stanford, Georgia Tech, Berkeley, MIT, Cornell, Harvard, Columbia, the University of Illinois, the University of Michigan, Purdue, Virginia Tech, the University of Waterloo, the University of British Columbia, Princeton, the University of Texas, and the University of Central Florida.
"We are astounded by the engagement and high volume of activity we are seeing across Piazza's platform in such a short time," said Sankar. "We now see as many contributions to the site in a couple of weeks as we saw the entire first quarter of the year. We actually added a feature this Fall that senses when contributions are heavy so that we can automatically create e-mail digests for students working on particular issues, rather than sending individual e-mails. And we are excited to develop even more useful features as our mobile apps gain traction."
Mobile Apps Foster Learning Throughout the Day
Piazza's mobile applications, available today from the Apple App Store and the Android Marketplace, let students and instructors stay connected to their classes whenever they have extra time or are away from their computers. For example, students can now post questions that arise during lectures while they're traveling between classes, and instructors can check for new questions while they wait for meetings to start.
"We see from our metrics that students' engagement with Piazza currently spikes in the evening hours," said Sankar. "With the iPhone and Android apps, we'll be able to help students and instructors stay connected throughout the day, which our users tell us will improve the learning environment for everyone."
The free mobile apps enable users to read, post, search, and edit questions. Most importantly, they offer a question feed that lets students and instructors go directly to open questions or answers they haven't read yet, so they can teach or learn even in brief stretches of time.
"Like Facebook and Gmail, I keep Piazza open in a tab so I get updates in real time while I'm working at my computer," said Nic Hippenmeyer, a student at Stanford University. "So it's a huge win for me to be able to get updates on the go during the day."
The Piazza iOS application can be downloaded from the Apple App Store here. The Android version can be downloaded from the Android Marketplace here. For more information about Piazza, visit http://www.piazza.com, where you can see the product in action and use it for free.
About Piazza
Founded in 2009, Piazza is a free, online collaboration platform for students and teachers to communicate about complex problems in real time. Anyone can create a class at Piazza.com to initiate classmate discussion. Students spend on average four hours a night on Piazza working together with classmates and instructors to find the answers they need at the time they need them. Piazza is FERPA-compliant and used in hundreds of colleges and universities.
For more information, please go to http://www.piazza.com.
###