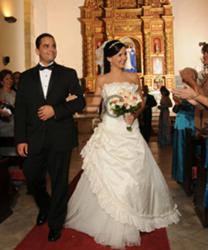 Who knows, maybe Sarah and I will take Grace up on her offer and all meet up one day.
Toronto, Canada (PRWEB) November 08, 2011
Today's brides agree that the perfect wedding dress must make them look and feel beautiful above all else and many, according to recent research from PreOwnedWeddingDresses.com, believe that a lovely gown should be shared, not stored – so it's only a little surprising that one dress could connect three women separated by state lines and international borders.
"Brides fall in love with their wedding gowns," said Josie Daga, owner of PreOwnedWeddingDresses.com. "Many of them can't imagine the dress they couldn't wait to wear tucked away in a closet. So they sell their gown to make sure it is enjoyed again. And they often make a real connection with the next bride - a woman who loves the dress as much as they did."
PreownedWeddingDresses.com, an online destination for buyers and sellers of new and used wedding dresses and accessories, conducted two surveys in August to learn more about women's attitudes toward their wedding dresses. Eighty percent of women said the most important attribute of the dress was how it made them look and feel – trumping cost or a particular style. More than 40 percent of brides who sold their gowns said that allowing the dress to live on in another bride's wedding was their number one reason for selling, topping the financial gains.
And what of the story of three brides, one dress? Sarah, a bride from Santa Domingo in the Dominican Republic, wore a stunning Pronovias Estefania gown on her wedding day. The gown cost more than double what she planned to spend but no other dress made her feel as beautiful.
"I decided to buy it with the condition that I would later on sell it," Sarah said. "That way I would spend what I had initially planned to spend on my wedding dress."
Sarah sold her dress to Grace from San Francisco, who had been searching for a gown in stores, online and in magazines until she saw Sarah's post. After the wedding, Kate from Seattle came to San Francisco to try on the dress.
"She took it home to Seattle" said Grace, "in its own airplane seat."
Not as unusual as you'd think, says Daga, who hears these stories all the time.
"Brides put their heart and soul into finding the perfect dress," she said. "Often they've invested a great deal of time and thought into their choice. They know a gorgeous gown deserves to be worn again!"
Catherine, another seller with PreOwnedWeddingDresses.com, still talks with the woman who bought her wedding gown. She's been promised pictures from the bride's wedding, of the dress she herself once wore.
As Kate of the three-bride dress puts it, "Who knows, maybe Sarah and I will take Grace up on her offer and all meet up one day … It does feel a little like the Sisterhood of the Traveling Pants kind of story!"
###