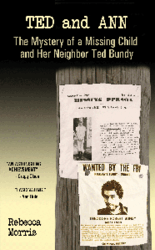 By the time he was a teenager, (Ted) Bundy was a thief, animal abuser and peeping tom who pulled little girls into the woods to scare them.
SEATTLE (PRWEB) November 15, 2011
Serial killer Ted Bundy killed at least 35 girls and women – possibly hundreds – before the law caught up to him. He was just 3 years old when he threatened his teenage aunt with knives. By the time he was a teenager, Bundy was a thief, animal abuser and peeping tom who pulled little girls into the woods to scare them. This new book questions whether an 8-year-old girl, Ann Marie Burr, was his first victim. She disappeared from her home 50 years ago in a Tacoma, Wash., neighborhood, and her body has never been found.
Ted and Ann is the story of two Tacoma families, the Burrs and the Bundys, and two mothers with many things in common, including the fact that each would lose her oldest child in a horrific way. The author includes never-before-published photographs of a young Bundy, interviews with those who knew him and memories of the two families in her chilling, detailed account of Ann Burr's disappearance.
Rebecca Morris first wrote about the girl's disappearance in 2007 for The Seattle Times and spent hundreds of hours talking with Ann's mother afterward. She pieces together decades of rumors, myths and facts in an attempt to solve the case, which never produced an arrest. Was Bundy telling the truth when he talked about killing Ann and dumping her into a muddy pit, or was that just another twist in an already horrific story? Morris' book explores how Ann's disappearance and Bundy's crimes intersected and affected countless lives. (Bundy killed young women in Washington, Oregon, Idaho, Utah, Colorado and Florida and remains a suspect in other states; he was executed in 1989.)
Award-winning journalist Rebecca Morris has worked in radio and television news in New York City; Portand, Ore.; and Seattle. Her work has appeared in publications such as The Seattle Times, The Oregonian, People, Entertainment Weekly, New York Newsday, and American Theatre. To learn more and to contact the author, visit http://www.RebeccaTMorris.com.
TED AND ANN – THE MYSTERY OF A MISSING CHILD AND HER NEIGHBOR TED BUNDY
Rebecca Morris
Dog Ear Publishing
ISBN: 978-145750-521-8 256 pages $14.95 US
Available at Ingram, Amazon.com, Barnes & Noble and fine bookstores everywhere. The e-book is available at http://www.CrimeRant.com.
About Dog Ear Publishing, LLC
Dog Ear Publishing offers completely customized self-publishing services for independent authors. We provide cost-effective, fast, and highly profitable services to publish and distribute independently published books. Our book publishing and distribution services reach worldwide. Dog Ear authors retain all rights and complete creative control throughout the entire self-publishing process. Self-publishing services are available globally at http://www.dogearpublishing.net and from our offices in Indianapolis.
Dog Ear Publishing – self-publishing that actually makes sense!
###