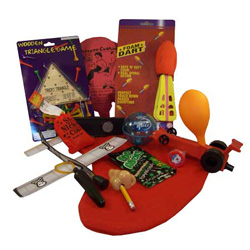 (PRWEB) November 08, 2011
With the mission of making the Christmas season less stressful for parents and more enjoyable for kids, Estockingstuffers.com has pre-filled stockings categorized by age and gender starting at $25. "We all know how challenging it can be to find an assortment of fun, unique, and affordable stocking stuffers without running all over town all day," says Estockingstuffers.com founder Jennifer Fischer. "We did the prep work for you this season by searching out great stocking stuffers that will make your Christmas morning extra special."
"Each stuffed stocking is pre-filled with 11-15 stocking stuffers that have been tested and approved by my own 3 kids. It is great to have that inside info on what stocking stuffers will make kids giggle, get them excited, and bring a smile."
If your child has been extra nice, there is also a great selection of individual stocking stuffers for under $5. Instead of standard Christmas treats like candy canes and chocolate, you will find great stocking stuffers such as St. Nick's lump of coal gum, magic milk straws, astronaut ice cream, peppermint rings, and more. There are exciting stocking stuffers such as a Coke-Mentos geyser tube that will rocket Coke 25 ft in the air. You can even guarantee yourself a White Christmas with Instant Snow, just add water and watch this super polymer expand 100x to resemble fluffy snow.
Estockingstuffers.com enters its first season excited to make Christmas easier than ever. As a busy mom and 2nd grade teacher, Fischer began the company as a result of doing more internet shopping online to avoid the frantic scene at the malls. "It was apparent that a stocking stuffer store was needed to make it convenient for the busy shopper."
About Estockingstuffers.com:
Estockingstuffers.com is an online retailer specializing in stocking stuffers and pre-filled stuffed stockings. Estockingstuffers.com is the ultimate one stop stocking stuffer store to find great gifts for everyone - kids, men, women, and pets.
Contact Information:
Jennifer Fischer
mail(at)estockingstuffers(dot)com
http://www.estockingstuffers.com
http://www.facebook.com/StockingStuffers.StuffedStockings
###