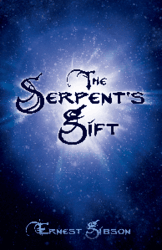 The Serpent's Gift is a thrilling tale of good vs. evil, full of twists and turns.
Anderson, Ind. (PRWEB) November 16, 2011
Justin Grant has no idea that the hike he has taken to salve his grief over the death of his wife and child will lead to the discovery that everything he has ever been taught has been a lie in this new book released by Dog Ear Publishing. As Justin walks through the mountains that wind near the cabin he's staying in during his leave of absence from a Midwestern religious college, he is amazed to see a man floating slowly to the ground; strangely, the man is not wearing a parachute, and he appears to have a halo. Suddenly the man stops floating, and plummets to the ground. Who is this mysterious stranger, and can Justin believe what he saw?
Justin takes the stranger, named Sandel, to the cabin and gets him medical attention. In the days that follow, as Sandel regains his strength, he shares with Justin a story so amazing it's difficult to comprehend. However, Sandel offers irrefutable proof, and Justin is drawn into a world he never believed existed. Soon, he finds himself working with the forces of good against an evil that is so unexpected and so shocking it will change the way the earth perceives religion for the rest of time.
The Serpent's Gift is a thrilling tale of good vs. evil, full of twists and turns that will keep readers turning pages. Full of fascinating characters and gorgeous settings on worlds that have never been dreamed, the story will expand readers' minds. Author Ernest Gibson, a self-proclaimed seeker of truth and knowledge, has "never grown out of the enjoyment of playing the game of 'What If.' After reading this book, (readers) will see that the 'What Ifs' went crazy," he writes. A retired designer in the auto industry, this is Gibson's first novel.
For more information, visit http://www.theserpentsgift.com
THE SERPENT'S GIFT
Ernest Gibson
Dog Ear Publishing
ISBN: 978-14575-0463-1 240 pages $13.95 US
Available at Ingram, Amazon.com, Barnes & Noble
and fine bookstores everywhere
About Dog Ear Publishing, LLC Dog Ear Publishing offers completely customized self-publishing services for independent authors. We provide cost-effective, fast, and highly profitable services to publish and distribute independently published books. Our book publishing and distribution services reach worldwide. Dog Ear authors retain all rights and complete creative control throughout the entire self-publishing process. Self-publishing services are available globally at http://www.dogearpublishing.net and from our offices in Indianapolis, Indiana.
Dog Ear Publishing – self-publishing that actually makes sense.
###