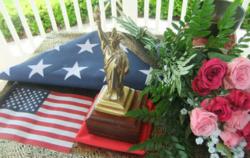 Pagan Warrior Radio is for Pagans of many paths - Wiccans, Druids, Heathens, Unitarian Universalist Pagans, Pantheists, and others. - Pamela Kelly, Co-Host of Pagan Warrior Radio
Madison, WI (PRWEB) November 09, 2011
Pagan Warrior Radio debuts with a special Veterans Day show on Friday November 11, 2011 at 8 pm CST on
http://www.blogtalkradio.com/witchschool/2011/11/12/pagans-tonight--veterans-day-special. The first part of the show will be a celebration of Military Pagans and their service. During the second part of the show, listeners are invited to call in and share their tributes, experiences, and perspectives.
Beginning on November 15, Pagan Warrior Radio will move to its regular weekly time slot on Tuesdays from 9-10 pm CST.
This new weekly internet radio show will be hosted by co-founders Pamela Kelly, facilitator of the Sheppard Air Force Base Pagan Circle, and Rev. Selena Fox, Circle Sanctuary's senior minister and director of military ministries. Pagan Warrior Radio is being sponsored and produced by Circle Sanctuary, in partnership with the Pagans Tonight Online Radio network. Circle Sanctuary, one of America's oldest and largest Wiccan churches, sponsors Pagan Circles at US military installations and on ships in the USA and overseas, including in Afghanistan, Iraq, Korea, and Qatar.
"Pagans have served and are serving in each of the branches of the US Armed Forces. We are creating Pagan Warrior Radio as an additional way to support Pagan veterans and troops and their loved ones, and to be a forum for networking, education, and dialogue. Shows will be a mix of news, information, music, reflections, ideas, and call-in discussion," says Rev. Selena Fox.
Pamela Kelly adds: "Pagan Warrior Radio is for Pagans of many paths - Wiccans, Druids, Heathens, Unitarian Universalist Pagans, Pantheists, and others. Upcoming shows will include topics such as the Future of Pagan Military Chaplaincy, forming Pagan Circles at military installations, making portable altars, and more!"
More information about Circle Sanctuary's military ministries:
http://www.circlesanctuary.org/ministries/military/
Rev. Selena Fox: 608-924-2216; selena(at)circlesanctuary(dot)org
For more information about Pagan Warrior Radio, contact Pamela Kelly: 940.642.8736; paganwarriorradio(at)gmail(dot)com
###