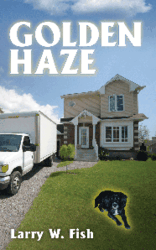 Tom and Cindy are alarmed by the hints dropped by neighbors and the fact that the neighbors refuse to allow their child to play in the house.
JACKSONVILLE, N.C. (PRWEB) November 17, 2011
Tom felt that his life couldn't get any better; he was happily married to Cindy, the woman of his dreams, and they were blessed with a lovely little girl, Megan. He made a good living as a car salesman, and they lived in a comfortable home in the Pocono Mountains of Pennsylvania with their beloved pet, a dog called Izzy. However, their picture-perfect life is shattered when Tom is involved in a horrifying car accident. Miraculously, Tom recovers, but the family's luck goes from bad to worse in this new book from Dog Ear Publishing. Tom and Cindy decide to move their little family down to North Carolina to get away from the bitter winter and the bad memories, but they find a new form of trouble after they move into a house with a troubled past.
Tom and Cindy are alarmed by the hints dropped by neighbors and the fact that the neighbors refuse to allow their child to play in the house, but as time passes they are troubled by paranormal disturbances within the house. The guardian angel that kept them safe in the Pocono Mountains finds herself taxed to her limits as she attempts to keep the family safe from the forces of evil at work. Will she be able to hold the evil at bay, or will the family succumb to the demons that possess their home?
Golden Haze is a spellbinding tale full of chills and suspense. Author Larry W. Fish spins a story that ensures the readers will be in the throes of suspense until the thrilling climax. Fish spent most of his life working in manufacturing and building maintenance, but upon reaching his 60th birthday, he picked up an old hobby — writing. After writing many stories for a website, Fish was inspired to expand upon the short stories with which he found success. He also received inspiration from Cher Valentino, founder and editor of Our USA Magazine. Fish has had several short stories of his youth published in that magazine.
For further information contact: Ray Robinson at 317-228-3656, via email at RayR(at)DogEarPublishing(dot)net, or through the website at: http://www.dogearpublishing.net
GOLDEN HAZE
Larry W. Fish
Dog Ear Publishing
ISBN: 978-1-4575-0515-7 178 pages $13.95 US
Available at Ingram, Amazon.com, Barnes & Noble
and fine bookstores everywhere
About Dog Ear Publishing, LLC Dog Ear Publishing offers completely customized self-publishing services for independent authors. We provide cost-effective, fast, and highly profitable services to publish and distribute independently published books. Our book publishing and distribution services reach worldwide. Dog Ear authors retain all rights and complete creative control throughout the entire self-publishing process. Self-publishing services are available globally at http://www.dogearpublishing.net and from our offices in Indianapolis, Indiana.
Dog Ear Publishing – self-publishing that actually makes sense.
###