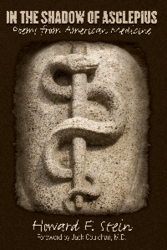 Spending more than 40 years in medicine brings an educated perspective to Howard Stein's poetic views on clinical life.
OKLAHOMA CITY, Okla. (PRWEB) November 17, 2011
Spending more than 40 years in medicine brings an educated perspective to Howard Stein's poetic views on clinical life. Stein, a medical, psychoanalytic, organizational and applied anthropologist, is regarded as a leader in the medical humanities in family medicine. He uses poetry in teaching clinical behavioral science to family medicine interns and residents. "Poetry can capture the ambiguities and pain of clinical practice, as well as its passion and delight," Dr. Jack Coulehan writes in the foreword. "Poetry is perhaps the clearest acknowledgement that the word is an instrument of healing."
In the Shadow of Asclepius delves into themes of human suffering and of having compassion, empathy and respect for patients and their families. His depth of feeling for people shows through his powerful words and imagery. In "Importance," Stein writes of a busy doctor and nurse on hospital rounds, and of a housekeeper who later came in and "sang to the [crying] baby before she mopped. … As if this room were the manger at Christmas time." "Hospitalized at Christmas" tells of the holidays, a time when "hospitals are riot with hope and disappointment." "Cancer Patient" reveals a tired patient's resolve not to let his doctor down. "Diagnosis" features a patient's reaction to a terrifying diagnosis that was relayed by a doctor without emotion: "Though you were here with me, I was alone with your words."
This is the eighth book of poetry by author Howard Stein. His most recent poetry book, Seeing Rightly with the Heart, was a finalist in the 2011 Oklahoma Book Award Competition. He was nominated in 2006 for Oklahoma Poet Laureate. Stein, a clinical anthropologist who has taught at the University of Oklahoma Health Sciences Center since 1978, serves as professor and special assistant to the chairman in the Department of Family and Preventive Medicine. He also taught for seven years in the Department of Psychiatry at Meharry Medical College in Nashville, Tenn. Contact him at howard(hyphen)stein(at)ouhsc(dot)edu.
For more information, visit http://www.asclepiusbook.com
IN THE SHADOW OF ASCLEPIUS: POEMS FROM AMERICAN MEDICINE
Howard Stein
Dog Ear Publishing
ISBN: 978-1-4575-0651-2 120 pages $11.95 US
Available at Ingram, Amazon.com, Barnes & Noble
and fine bookstores everywhere
About Dog Ear Publishing, LLC
Dog Ear Publishing offers completely customized self-publishing services for independent authors. We provide cost-effective, fast, and highly profitable services to publish and distribute independently published books. Our book publishing and distribution services reach worldwide. Dog Ear authors retain all rights and complete creative control throughout the entire self-publishing process. Self-publishing services are available globally at http://www.dogearpublishing.net and from our offices in Indianapolis.
Dog Ear Publishing – self-publishing that actually makes sense.
###