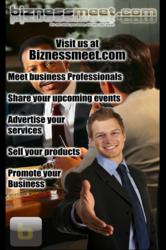 "This site satisfies all walks of life and directly targets individuals as well as businesses wanting to be movers and shakers and dominate their industry"
Winston Salem, N.C. (PRWEB) November 08, 2011
According to an estimate by the United Nations, the world population has already exceeded 7 billion people. These are all people who at some point in their life will be consumers, buyers or sellers in the marketplace. Consumers are exposed to hundreds of commercial messages per day in one form or another. It is important now more than ever for businesses and individuals to differentiate themselves from the crowd and make their presence known.
Biznessmeet.com is business and social networking site that brings together businesses and individuals in a social and professional perspective and simultaneously encourages good business relations and abundant networking amongst all involved.
By joining Biznessmeet.com, businesses and individuals benefit from increased exposure. Job seekers can upload résumés and connect with potential employers and professionals from all walks of life, therefore increasing their broader business network. Biznessmeet users can also take advantage of a brand new feature called "My Expression Box", which allows business and individuals to express feelings, ideas and concepts through their favorite video. Biznessmeet members can also upload promotional videos, tutorials and commercials to showcase their businesses, products or services.
Founders Rosalyn Wheless-Wilson and Mitch Brown are the visionaries behind Biznessmeet.com. This dynamic pair created the site to Biznessmeet.com is a new business social networking website. "This site satisfies all walks of life and directly targets individuals as well as businesses wanting to be movers and shakers and dominate their industry," according to founders Wheless-Wilson and Brown.
Biznessmeet.com is an innovative and user friendly, virtual community that provides users with an opportunity to get more out of their network. Biznessmeet is free to join at, http://www.Biznessmeet.com.
Build, master and expand connections with this cutting-edge social network today! Remember it's not always what you know, but who you know.
###