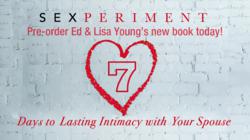 It's not a lack of love that makes a marriage monotonous; it's a lack of passion. Sexperiment will help you put the passion back where it belongs... and take your marriage where it needs to be!"
- Rev Run
Grapevine, Texas (PRWEB) November 08, 2011
Author and Pastor Ed Young and his wife Lisa Young have crafted a book aimed to help couples empower and improve their marriages. This new book Sexperiment is the result of a "Seven Day Sex Challenge" Ed and Lisa Young originally issued to their church congregation at Fellowship Church. The message caught the attention of the national media and quickly made the rounds of headlines and talk shows.
The purpose of the challenge, says Ed Young, was to bring couples back to a place of connection, where they could rekindle the joy of marriage and place priority on intimacy, self-sacrifice, and pleasing one another.
Now, Ed and Lisa Young are publishing the results of the challenge and delivering the same message to all married couples by providing a roadmap to intimacy in Sexperiment. As Ed puts it, "This is a Sexperiment for real couples in the laboratory of real love!"
Ed Young is the founding pastor of Fellowship Church, and an author and speaker noted for his creative communication style. He has a passion for making the complex, simple in ways people can understand and apply to their everyday lives. He has written 13 other books, including The Marriage Mirror; Outrageous, Contagious Joy; Beauty Full; and Kid CEO.
Ed is a frequent conference speaker, and he provides resources for church leaders through CreativePastors.com and the Creative Church Conferences (C3). Ed has been married to his wife, Lisa, for twenty-nine years. They have four children and live in the Dallas/Fort Worth area.
If you want to learn more about Ed, see what's on his mind, what he's up to and what drives him each day, visit [http://www.facebook.com/pastor.ed.young or at http://www.vimeo.com/ey.
"Sexperiment" is available for pre-order on Amazon, Barnes and Noble, Books a Million Mardel and Christian Book Store.com, and will release in January 2012 ($21.99).
FaithWords publishes engaging and relevant Christian books for seekers and people of faith. FaithWords has grown a solid list of high-profile authors including bestselling authors Joel Osteen, Joyce Meyer, David Jeremiah, John Eldredge, Philip Yancey and Charles Swindoll.
Press Contacts:
Andy Boyd
Fellowship Church
andy.boyd(at)fellowshipchurch(dot)com
972-471-5700
Casey McCann
Fellowship Church
casey.mccann(at)fellowshipchurch(dot)com
972.471.5700
NOTE TO EDITORS: For additional information about Ed Young and his ministry visit http://www.edyoung.com or call (972) 471-5700. Fellowship Church and the Fellowship Church logo are trademarks of Fellowship Church. Other company and product names may be trademarks of their respective owners.
# # #