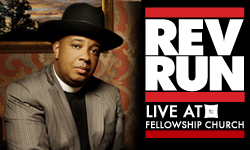 He's an amazing guy, and we thought it would be a great way to get his life-change story out there,"
Grapevine, Texas (PRWEB) November 10, 2011
Fellowship Church's Pastor Ed Young is featured in D Magazine's Frontburner blog article about special guest Rev Run and what to expect from upcoming new church series Run to the House. The series kicks of the weekend of October 15, and is expected to have a family-focused theme. The article, written by Christine Perez, outlines what the draw to Rev
Run is and the excitement about having him at Fellowship Church.
"He's an amazing guy, and we thought it would be a great way to get his life-change story out there," says Young.
Rev Run will make a live appearance at both the Grapevine and Miami campuses of Fellowship Church the weekend of October 22-23. Rev Run is best known as being a founding member of hip hop group Run DMC, and reality TV star of MTV's "Run's House." During the program, the Rev will be giving away Adidas sneakers and most likely do some freestyle rapping. Simmons will be joined at the appearance by his wife, Justine, with whom he wrote the book, Take Back Your Family: A Challenge to America's Parents.
Fellowship Church is always open to the public. Anyone in the community interested may attend any of the experiences. Times, directions, and locations can viewed online. The services will also be available online as of October 24.
About Fellowship Church
Fellowship Church is more than just one dynamic church in five diverse locations. Fellowship Church, led by Pastor Ed Young, is a community of people led by Christ to bring hope, strength, and change to the world.
To learn more about Fellowship Church visit: http://www.vimeo.com/ey, http://www.facebook.com/pastor.ed.young or http://www.youtube.com/edyoung
Press Contacts:
Andy Boyd
Fellowship Church
andy(dot)boyd(at)fellowshipchurch(dot)com
972-471-5700
Casey McCann
Fellowship Church
casey(dot)mccann(at)fellowshipchurch(dot)com
972.471.5700
NOTE TO EDITORS: For additional information visit Fellowship Church News Room, or call Fellowship Church (972) 471-5700. Fellowship Church and the Fellowship Church logo are trademarks of Fellowship Church. Other company and product names may be trademarks of their respective owners.
###