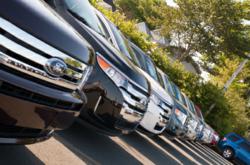 Houston, TX (PRWEB) November 08, 2011
Russell & Smith Ford of Houston, Texas is proud to announce the 2012 Fords with optional Sync with MyFord systems are now available on their lot for any and all available new Ford models excluding cargo vans. This great feature works in conjunction with Smart Phones to give drivers a safer driving experience while interfacing with today's modern features available on most new phones. It offers a hands-free calling and audible text messaging system along with 911 assistance as well as driver assisted turn-by-turn directions, traffic alerts, business searches, and 411. It's also got some entertainment options on it such as voice-activated music, internet connectivity, and news, sports, and weather, and the Russell & Smith Ford dealership couldn't be more excited about being involved in one of the latest safety trends available. Besides selling high-quality vehicles with the legendary Ford name instilling confidence, customer satisfaction and safety is now and will continue to be No. 1 at Russell & Smith Ford. When looking for a new Ford Edge in Houston or a used Ford Explorer in Houston the sales team there wants car buyers of new and used vehicles to look no farther than Russell & Smith Ford for all automotive sales, parts, and service needs.
Many of the great 2011 Ford cars and trucks have made best selling car lists this year in Popular Mechanics on their Auto Excellence Awards list and Forbes' Top 10 Best Selling Cars list. This combined with the Sync with MyFord system makes owning a Ford vehicle an even more attractive buy. But Russell & Smith has many great pre-owned vehicles in stock as well for consumers to consider. For example, a used Ford Expedition in Houston is easy to find on their lot as well as a wide variety of other used cars in Houston and used trucks in Houston. No matter what a car buyer is looking for, chances are it's in stock at this great Ford dealership. Russell & Smith has been in business for over 70 years serving car buyer's needs in Houston, Texas and take pride in being a highly respected and integral part of the community. People in Houston know that this is a trusted dealership that goes out of its way to provide a stellar car buying experience to its customers ensuring that their trust in the Ford name is met with respect and integrity. The F-150 has been the best selling truck in the automotive industry for over 30 years, and consumers have a certain level of expectation when it comes to the Ford name for unsurpassed quality.
With that in mind their service department and all other aspects of their dealership must meet the same rigid standards that their vehicles must meet. When taking trade-ins on new Ford cars, trucks, and SUVs, Russell & Smith Ford accepts only the highest-quality vehicles and ensures they meet the high standards that are sought in a used vehicle. They are inspected and undergo any and all servicing or repairs that might be needed in order for them to be declared worthy of resale on the Russell & Smith Ford lot. The dealership continually strives to maintain only the very best possible inventory for its customers to keep safety and customer satisfaction at the forefront. Buying a used vehicle shouldn't be full of risks or guesswork. It should be a positive buying experience every bit as pleasant and satisfactory as buying a new vehicle, and Russell & Smith Ford wants to take all the guesswork and the apprehension out of it for all customers. In doing this Russell & Smith Ford ensures customer satisfaction and ultimately customer loyalty for future sales. So when thinking of a new or used car, truck, or SUV purchase in the Houston area, think Russell & Smith Ford of Houston, Texas is a safe bet.
First in Results SEO Marketing
###