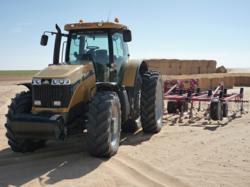 Agricultural Sciences @ Life-Sciences.net
(PRWEB) November 09, 2011
The Agricultural Sciences category of the Life-Sciences Magazine covers the cultivation and production of crops, raising of livestock, and postharvest processing of natural products. This section currently contains more than 78,000 articles. A great part of these contributions derive from nearly 250 international scientific journals covering this science discipline.
One of the latest inclusions deals with the molecular and cytological characterization of centromeric retrotransposons (CRs) in a wild relative of rice, Oryza granulata. Since centromeric retrotransposons are important components of the functional centromeres of rice chromosomes, the authors sequenced the orthologous region of the rice centromere 8 (Cen8) in O. granulata to track evolution of the CR elements in the genus Oryza. The study confirms the conservation of the CRs in the Oryza genus and provides a resource for comparative analysis of centromeres and centromere evolution among the Oryza genus.
Another article on biocontrol of black scurf on potato by seed tuber treatment with Pythium oligandrum describes the results of field experiments following treatment of potato seed tubers with P.oligandrum. Results indicate that the R. solani population was reduced on the seed tubers treated with P. oligandrum compared to untreated tubers. This indicates that P. oligandrumto induces resistance against black scurf on potato tubers. This resistance is apparently based on biocontrol mechanisms involving both mycoparasitism and induced resistance.
The social network Life-Sciences.net was established to discover and share scholarly and popular content in the basic and applied life and earth sciences including biology, agriculture, forestry, the environmental sciences, and the health sciences.
While the very latest Agricultural Sciences content is rarely older than a few minutes, the front page of Live-Sciences.net usually presents stories submitted ca. 20-60 minutes ago. All categories including that of Agriculture feature RSS Feeds. Categories and all articles can be bookmarked and shared with the AddThis buttons which include the increasingly popular Google+1 button.
The website newly features a "Top Content" sidebar which presents the most frequently shared articles available on the site. While Google's Translate gadget supports translating Life-Sciences.net's content into over 50 languages, the site's own search function enables users to search for specific keywords or phrases. For every story displayed, this search functionality automatically suggests up to 10 related articles which are displayed sorted by relevancy.
Life-Sciences.net maintains the Twitter account @Life_Sciences_ which currently features 78,414 tweets and 1,186 followers. The Agriculture category is represented by Twitter's @AgricultureMag featuring 21,382 tweets and 352 followers.
###