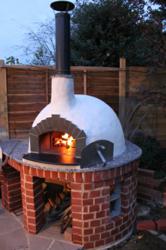 Ideal as a Christmas gift for a foodie fanatic, a wood fired oven is not just for Christmas, but for use throughout the seasons
(PRWEB) November 10, 2011
Christmas time may be a nightmare for some, or a dream for others. Many look forward to the opportunity to showcase their culinary skill and gloat of their gastronomic wisdom. But for everyone, The Stone Bake Oven Company, makers of indoor and outdoor wood burning ovens, are making festive entertaining, well, that much more entertaining this year.
Owning a wood fired oven will ensure this 'tis the season to be jolly, and make your mates jealous, very jealous. Be the host with the most and have the a creative edge on a Christmas 'do', with wood roasted chestnuts, melt-in-your-mouth roasts, freshly baked Christmas pies and recently simmered mulled wine. Best of all, enjoy the theatre of cooking with natural, un-altered fire.
The benefits of owning a pizza oven range from faster cooking times, unique wood fired flavours and the added warmth only wood fired cooking can bring. Let's not forget the lack of cleaning, a wood fired oven can reach temperatures exceeding 500◦C resulting in residual food being burnt off, another excuse why a pizza oven is a must have.
The Stone Bake Oven Company has a diverse range of wood fired ovens to suit a variety of needs, budgets and space restraints. From the affordable Primo Oven, a compact wood burning oven to the grand Rocca Oven, a stunning feature, for indoor or outdoor use.
Ideal as a Christmas gift for a foodie fanatic, a wood fired oven is not just for Christmas, but for use throughout the seasons, bringing additional flavour and interest to local produce as the seasons change.
Find further information and a range of wood burning ovens at http://www.thestonebakeovencompany.co.uk, including commercial wood fired ovens, tonnes of tips and a repertoire of recipes.
###