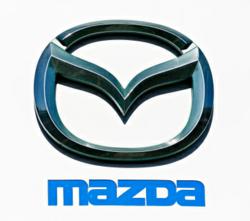 Houston, TX (PRWEB) November 08, 2011
At Russell & Smith Mazda in Houston, Texas the mood couldn't be brighter as the team there proudly acknowledges the accolades over the fact that the 2011 Mazda3 has made the Forbes' 2011 Best Cars for Commuters list. This is a great honor to go with a great car. The Mazda3 was given a total 85.5 scoring derived from a number of factors including highway miles per gallon and one point for each inch of space available. Forbes compiles their list of contenders from new vehicles listed as Consumer Reports' "Recommended Picks" for this year. Recommended picks have average or better predicted reliability and meet Consumer Reports' safety standards. They must also have performed well in accelerating, braking, handling, comfort, and other user-oriented tests. The Mazda3 is a 4-cylinder sedan i touring vehicle in the small car class with 4.5 inches of head room and 41 inches of leg room that gets an impressive 40 mpg on the highway and received a total score of 85.5 in Forbes' scoring. Russell & Smith Mazda also has used cars in Houston and used trucks in Houston available for consumers to choose from on their lot when looking for a used Mazda in Houston.
In order for Russell & Smith Mazda to remain competitive in their field their online website allows consumers to peruse the available stock in their massive inventory from the comfort of any PC with relative ease thereby skipping all the driving around associated with the normal car buying experience. Their stellar website makes it easier than ever to find the new or used vehicle that any customer may have in mind without ever leaving home, thus enabling them to narrow down the field, as it were, allowing them to do the necessary price comparison shopping without the added hassle of spending time in traffic and money on gas and opening up the opportunity to quite possibly receiving an incentive in the form of a special online sale price. This along with reduced APR rates for qualified buyers could result in significant savings for savvy shoppers. The Russell & Smith dealership has a great variety of different used Mazdas available such as a used Mazda CX-7 in Houston or a used Mazda CX-9 in Houston in a variety of colors. All of this can be just a mouse click away. And when it comes time to take a test drive, one of Russell & Smith's friendly and knowledgeable sales team can answer any questions potential car buyers may have about the vehicle of their choosing.
Russell & Smith Mazda also maintains their competitive edge by partnering up with First in Results SEO Marketing, the cutting edge Search Engine Optimization company that many leading car dealerships in the country turn to in order to keep competitive in the sales industry. Through the use of keywords and SEO Theodore Price, president of First in Results, is able to help otherwise ordinary dealerships become extraordinary movers and shakers in the new and used car sales industry ensuring results that even the least competitive dealerships have seen turn their entire business around even in these slow economic times and enabling them to see continued success and stay on top during it all. This often results in dealerships' ability to pass considerable savings onto consumers making it a win-win situation for everybody. So if a car shopper residing in the Houston area is in the market for a new or used Mazda, especially those commuters, or any used vehicle, Russell & Smith Mazda is quite probably the place to be for all car shopping needs, professional and friendly service, and a knowledgeable sales staff ready to help answer questions and get consumers in the car of their choice.
First in Results SEO Marketing
###