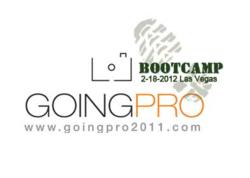 "We've kept the costs down and we're going to keep the group relatively small - education in marketing photography is the goal," commented co-founder Skip Cohen.
Las Vegas, NV (PRWEB) November 09, 2011
Just three weeks ago, the long awaited book for new professional photographers, GoingPro, started to leap off the shelves. It went right to the top of the charts in the category and is fast becoming the "Bible" for photographers wanting to make the jump to professional status.
On February 18 in Las Vegas, photographers interested in turning pro will have a chance to learn from three of the photographic industry's best known icons, Scott Bourne, Clay Blackmore and Skip Cohen. GoingPro Bootcamp kicks off at 9:00 am and runs for a full day, giving attendees a chance to learn how to start their professional photography business.
This bootcamp is NOT about photography, but how to get a photography business started and the steps needed to keep it going. This is about the business and marketing side of photography taught by three well-established industry experts. Between the three instructors they've accumulated 110 years of industry expertise in photography, business and marketing.
The GoingPro Bootcamp is designed to help attendees get what they need to pursue their dream and get their business off the ground. Bootcamp will help with ideas on marketing, social media, building a client base, pricing, added value, selling skills and community involvement, just to name a few. Bootcamp will help develop that long list of necessities to get established as a professional photographer.
"Seating will be extremely limited. This is a boutique conference by design and we want to make sure we get time with each attendee. We want to make sure that after they attend this business bootcamp they're ready to start implementing the necessary components almost immediately," commented Scott Bourne, co-founder and author of GoingPro.
Today, the GoingPro phenomenon has over fifty thousand photographers who follow the free blog, enjoying close to five hundred posts on the site along with fifty-six podcasts. New podcasts go live every ten days and often include iconic photo industry guests.
The cost to attend the all day GoingPro Bootcamp is just $99! February 18 was selected for a key reason in order to give attendees a chance to attend the WPPI (Wedding and Portrait Photographers International) convention, whose platform programming starts the 19th.
"We're excited to do our second bootcamp," commented Skip Cohen, the other co-founder and GoingPro co-author. "We've intentionally kept the price as low as possible in order to allow as many new photographers to attend. We also intend to keep the group relatively small, allowing us maximum time with the attendees!"
Sponsors of GoingPro will also be participating in the event, side by side with the attendees, giving them a chance to build their networks and get to know more about each company and the wealth of support available to them. Sponsors include some of the finest and most proactive companies in photography...Album Epoca , Animoto, Adorama, AsukaBook, Bay Photo Lab, Dynalite, Kubota Image Tools, Photofocus.com, Pixel2Canvas, Skip's Photo Network,Skip's Summer School, SmugMug and 3Exposure.com.
Interested in finding out more about GoingPro? The blog is loaded with great content at http://www.GoingPro2011.com and registration for Bootcamp is just a click away!
For more information on GoingPro contact Scott Bourne at scottbourne(at)mac(dot)com or Skip Cohen at skip(at)mei500(dot)com.
###