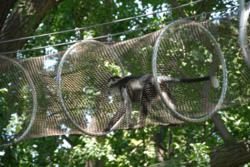 Silver Spring, MD (PRWEB) November 08, 2011
The Philadelphia Zoo's Treetop Trail is a system of elevated passageways and lookouts situated among the treetops for primates to travel and explore. The Association of Zoos and Aquariums explores this story on its Explore blog.
The animal residents now have the opportunity to travel away from their homes, providing both visitors and animals with interesting new encounters – and new perspectives to explore.
Animal enrichment is an important part of life in zoos and aquariums and includes all processes that enhance an animal's environment within the context of their behavioral biology and natural history.
Enrichment may include changing something in the habitat, offering food in new ways, appealing to other senses (touch, sound), introducing new animals to a group, or other novelties. In Treetops Trains, it's nice to see a simple yet innovative new design that provides animals with a very new experience.
The Explore blog brings you exciting, informative, and inspiring wildlife conservation features, zoo and aquarium stories, and profiles. Be sure to visit http://wildexplorer.org to get your wild animal fix!
Founded in 1924, the Association of Zoos and Aquariums is a nonprofit organization dedicated to the advancement of zoos and aquariums in the areas of conservation, education, science, and recreation. Look for the AZA logo whenever you visit a zoo or aquarium as your assurance that you are supporting a facility dedicated to providing excellent care for animals, a great experience for you, and a better future for all living things. The AZA is a leader in global wildlife conservation, and your link to helping animals in their native habitats. To learn more visit http://www.aza.org.
###