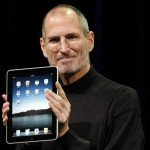 The legacy for Steve is that it's all together as one family of products," said Jay Elliot
Irvine, CA (PRWEB) November 08, 2011
Jay Elliot, author of The Steve Jobs Way and former senior vice president of operations for Apple, details his tenure with Apple and what it was like to work alongside Steve Jobs during episode 228 of The Creating Wealth Show. Elliot shares his first-hand experiences and Jobs' leadership and management style, which revolutionized—and then defined—the way business is done in Silicon Valley.
Elliot's experience as an executive at both IBM and Intel helped him recognize Jobs' extraordinary leadership, which propelled Apple Computer to become the most valued brand on earth. Elliot explains that he wrote the The Steve Jobs Way to "document the philosophy of why Steve Jobs and Apple were successful. It changed my life and my perception of corporate leadership."
In the early '80s, Eliott explains how Jobs helped set a new standard for what Silicon Valley is today. "Silicon Valley was much more buttoned down," said Elliot. "Steve was 25-years-old and CEO of a corporation. That wasn't the way things were."
At the time, it was unheard of to see executives hanging out together in jeans and t-shirts. "Going to work for Apple was interesting because I'd been used to wearing suits and ties," shared Elliot. "To work for a company where you can wear Levi's and a t-shirt was a different experience."
As the host of The Creating Wealth Show asks about Jobs' leadership style, Elliot shares that Jobs' leadership was in the products. "The 'magic' was Steve wanting the best products and the most talented team," said Elliot. His style was in recognizing accomplishments related to the products. Jobs employed small product development teams because he wanted people to feel empowered about their role in that development. Elliot added that "he didn't worry about money or the stock price – he knew if he built a great product that would take care of itself."
Steve Jobs' approach to building computers was unique, simple and revolutionary: create a simple, easy-to-use computer with proprietary hardware and software.
"Steve always believed you should have the 'whole product'—it should be all in one," said Elliot. "It shouldn't be part hardware, part software dealing with two different companies."
This is where Apple capitalized on the mistakes of IBM. Elliot explains that "personal computing was an area that IBM didn't want to develop. IBM made a huge error by allowing clones—Microsoft software could run on any computer."
The other part of Jobs' product success was to make all of Apple's products compatible. "Now, with the iCloud, it's all synched. The legacy for Steve is that it's all together as one family of products," said Elliot.
Much of Jobs' concepts of simplicity came from his practice of Buddhism. Elliot states that "the ultimate statement of simplicity was to create a product that didn't need an owner's manual."
Elliot goes on to share Jobs' concept of "humanity of the products"—creating products with purpose. The other part of his humanity was education. "His passion was education. Offering development and discounts to the education systems of the world," said Elliot.
In discussing the early days, Elliot said one of the key moments in the development of the Macintosh was a tour that he and Jobs took of Xerox Park—a research center in Palo Alto and a driver of technology at the time. It was there that they saw technology that Jobs would help integrate into personal computing decades later.
"Most of the technology that we use today came from Xerox, things like USB drives and Firewire were already developed in the 70s," said Elliot. But it was one Xerox innovation in particular that hypnotized Jobs: the mouse.
"When Steve saw the mouse, his eyes lit up, because he knew the interface to a computer needed to be simple—because people in those days looked at computers and were fearful of them." According to Elliot, this was a "release"—the moment Jobs knew that anyone could use a computer.
For Steve Jobs, the products always came first—his leadership was built around the idea of creating superior, compatible products that anyone could use. This leadership is now his legacy.
Jay Elliot was charged with the task of running operations at Apple. His tenure lasted from 1980 to 1986, during which time he was responsible for all corporate operations, including human resources, facilities, real Estate, IT, education and pacific rim sales. Elliot was also responsible for Apple's corporate business planning and was an integral member of the Macintosh organization. During these years, Apple sales grew from $150 million to more than $3 billion.
The Steve Jobs Way is the "how to be like Steve" book that Jobs' fans have been waiting for and takes readers through his remarkable career — from the Apple II to the Macintosh to his stunning fall from grace and his rebirth at the helm of Apple, his involvement with Pixar and the development of the iPod, iPhone, iPad and much more. The Steve Jobs Way presents real-life examples of Jobs' leadership challenges and triumphs, showing readers how to apply these principles to their own lives and careers.
About The Creating Wealth Show
The Creating Wealth Show was created for those interested in learning more about real estate investing, financial and entrepreneurship strategies. The show has been in production for over four years and features many cutting-edge topics and guests such as Harry Dent, Robert Kiyosaki, Michael Gerber, Ellen Brown, Yanik Silver, Shane Gibson, John Assaraf, Peter Schiff, Lawrence Yun and many more. For information, visit The Creating Wealth Show online.
###