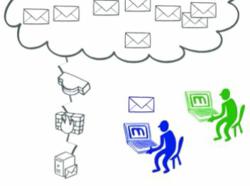 (PRWEB) November 09, 2011
Email is an organization's main form of communication, and over the last decade corporate email has become ever more complex, becoming expensive, difficult to manage, and at risk from security breaches. Mimecast has built a simplified email management system that can solve the complexity of email management. Now all businesses can benefit from cloud services.
Mimecast's unified email management system now offers a suite of tools including email archiving, security and business email continuity in a single integrated solution. This offers continuous and consistent enforcement of email security, data loss prevention and archiving policies at all times.
Benefits of having a unified email management system:

Ensures the integrity of email receipt, delivery, policy enforcement, tracking and retention
Provides online email archiving that stores up to ten years of email
Helps businesses achieve and manage compliance
Protects users and network from spam, email viruses and other evolving threats
Ensures users have ongoing access to their new and archived email
Delivers rapid returns and cuts cost
For more information, watch this video about unified email management in the cloud, or visit the Mimecast website.
# # #