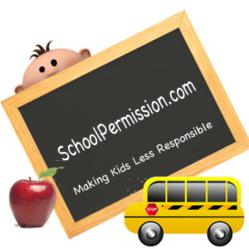 "By removing the students from the permission process we empower teachers and parents to communicate directly", said Bob Swearengin, founder and CEO of Consent Inc. "The responsibilty is between the teacher and the parent. Not the student."
Eden Prairie, MN (PRWEB) November 10, 2011
No one would send a first grader to make a house payment. Or, make them get a contract signed. SchoolPermission.com gives teachers the ability to create, send, and receive student permissions directly from parents. Students are not part of the process.
"Schoolpermission.com was created to solve a simple problem", said Bob Swearengin, founder and CEO of Consent Inc. the company that created Schoolpermission.com. "Anyone who has a child in school knows the backpack is a black hole. If it's important it should be handled between the teacher and parents."
By creating an application that gives teachers the power to create online permission forms Consent Inc is removing one of the small, but persistent headaches parents and teachers face: Miscommunication.
The application also overcomes the language barrier with 18 diffrenent online translations using Google Translate.
"Teachers spend a tremendous amount of effort building relationships with parents about thier students", said Swearengin. "One lost permission form can undermine that relationship."
School districts also need protection. Keeping parents happy and avoiding potential lawsuits is a key focus of school administrators.
"A permission slip is more than a notice to parents. It's a document that needs to be approved, filed and retained by the school district", said Swearengin. "One recent study showed that almost half of student permission forms go unsigned. This is a real problem for schools."
Schoolpermission.com tracks students who are assigned to classroom acitivities. A permission form is created for each activity and an email notice is sent to the parent or guardian on record. Parents login in to the system and approve or reject each permission. The teacher dashboard shows the status of every student's approval. Approvals are retained for as long as necessary.
For parents without internet access schoolpermission.com has a manual approval process where teachers can record verbal approval from parents.
Teachers and parents interested in Schoolpermission.com can find more information at http://www.schoolpermission.com or by calling the corporate offices located at 7825 Washington Ave Eden Prairie, MN 55435. The phone number is 888-668-1159.
# # #