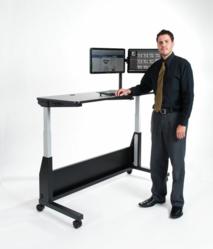 Our sit to stand products have been used for years in manufacturing, medical and science industries, but now employers can see they can work in traditional office environments, as well. - Christopher Stormer, COO
Los Angeles, CA (PRWEB) November 09, 2011
Sitting for hours at work can create musculoskeletal disorders, circulatory and obesity issues. Now it can also contribute to our risk of getting certain kinds of cancers. USA Today recently published an article by Nanci Hellimich (November 3, 2011, p.3A) that states, "prolonged sitting also increases the risks for certain types of cancer, such as colon cancer, endometrial and ovarian cancers….". We now have a name to issue of sitting too long without moving; thanks to The American Cancer Society it's called the "Sitting Disease". We know the solution is to not sit so long, but how do we do this when workers are in an office eight or more hours a day? The answer has been in front of us years.
In light of the recent article published by USA Today, VersaTables believes their sit to stand computer furniture helps avoid the "sitting disease":
"Our sit to stand products have been used for years in manufacturing, medical and science industries, but now employers can see they can work in traditional office environments, as well. Whether its staff performing data entry tasks or lawyers writing briefs, we can provide mobile computer carts or adjustable desks that hold computers securely and provide an ample work area," said Christopher Stormer, COO of Versa Tables.
Some of the VersaTable offerings:
The Deluxe Diagnostic Fusion Computer Cart is the most versatile fusion cart manufactured. Steel casters and a push handle. Compact enough to maneuver through tight spaces or be stored in a closet.
The Laptop Fusion Computer Cart is the ideal choice when versatility is paramount. Provides the ability to manage information and print documents without the restrictions inherent in a stationary desk. Laptop locking device keeps your hardware secure.
VersaTables Adjustable Table is the most versatile solution in the market today. Provides extensive adjustability and superior cable management. Accessorized with two mounted monitor arms, retractable keyboard trays
VersaTables a division of Versa Products, Inc. is a private owned American Furniture Manufacturer dedicated to using Green Manufacturing processes to produce high quality furniture, computer tables, medical furniture, PACS, desks, adjustable beds, lighted mirrors, and more since 1996. Their products span across all industries.
###