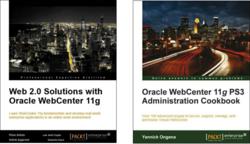 Birmingham, UK (PRWEB) November 11, 2011
Packt Publishing is pleased to announce the Kindle editions of two books aimed at WebCenter 11g Professionals: Oracle WebCenter 11g PS3 Administration Cookbook and Web 2.0 Solutions with Oracle WebCenter 11g. Both titles are now Live and available from Amazon's Kindle store.
What is Oracle WebCenter? Oracle WebCenter Suite 11g is Oracle's modern user experience platform for the Enterprise and the Web. Oracle WebCenter Suite 11g delivers social and collaborative services to help optimize connections between people, information, and applications.
The books.
Oracle WebCenter 11g PS3 Administration Cookbook is a practical guide that provides over 90 advanced recipes with step-by-step instructions covering important aspects of managing and administering Oracle WebCenter. Topics covered include: portals, portlets, wikis, external applications, personalization, and more.
Web 2.0 Solutions with Oracle WebCenter 11g is a book enables developers to learn the important concepts of WebCenter. It shows several scenarios where Oracle WebCenter 11g technology can be used to improve the productivity of organizations and each chapter provides a practical application of the technology, guiding readers through many web-building features such as pages and portlets.
Full book details for each book can be found on Packt's website.
About Packt.
Packt Publishing is a modern publishing company that has developed a large and wide range of Oracle focused titles. More than seventy Oracle books (including those in the company's RAW program) can be browsed on the company website. Topics include the Oracle Database, Fusion Middleware, Applications, and more. Packt offers its own online Library: PacktLib, with an annual Oracle-books subscription now available for $120 per year.
###