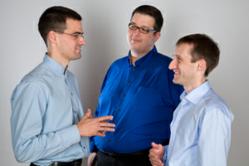 If you're looking for help, you'll be talking to one of our experts within 15 minutes. You'll get the assistance you need, 24/7.
Traiskirchen, Austria (PRWEB) November 10, 2011
hastexo announces the immediate worldwide availability of its flagship service, Ask The Expert Now. With this unique offering, hastexo's expert Linux cluster knowledge is available easily, affordably – and lightning fast. Customers gain access to a Linux high availability specialist, by phone and remote assistance, within 15 minutes or less. System administrators and cluster operators can thus rely on hastexo's expert pool to master even the most demanding high availability challenges.
High Availability: Don't Go Live Without It
Today, for businesses and their customers, even a brief interruption of critical services – such as a corporate web site, email services, logistics and billing systems – is unacceptable. High Availability is thus an integral component of modern Information Technology platforms: by deploying high-availability cluster services, businesses create much-needed systems redundancy and protect themselves against hardware or infrastructure outages.
The Linux server administrator's powerful High Availability toolkit is the Linux Cluster Stack. Among its components, Corosync and Heartbeat ensure reliable communications between cluster servers or nodes. Pacemaker manages highly available cluster services, and DRBD is a rock-solid alternative to SAN storage for data redundancy and replication.
All components of the Linux Cluster Stack are versatile and flexible. On the flip side, there is complexity: those new to the software stack often do not use it to its fullest, or may introduce performance bottlenecks that only become evident by the system hitting capacity limitations earlier than projected.
hastexo: Expert Help, Right Now
Previously, cluster administrators often had to meet these challenges alone and unassisted. Professional consulting, although available, typically came with long lead times and significant expense – hardly a good match for high-availability projects under time pressure and cost constraints. "This is exactly where Ask the Expert Now comes in," said hastexo CEO Florian Haas. "If you're looking for help, you'll be talking to one of our experts within 15 minutes. You'll get the assistance you need, 24/7."
The service is attractively priced, and open to new customers without prior commitments. "To use this service, you just register on our web site and purchase Professional Service Credits. Your personal access credentials and dial-in numbers then promptly appear in your browser window, and you're able to call a hastexo expert immediately," Haas explained. "The offering covers all issues related to the Linux Cluster Stack, regardless of whether they are functional in nature, or performance related. In short, Ask The Expert Now is three steps: click, buy, call."
In addition to Ask The Expert Now, hastexo also offers several more Professional Service packages, and makes 24/7 consultancy readily available, all without locking customers into long-term contracts. On its corporate web site (http://www.hastexo.com), hastexo provides project effort estimates for a number of standard Linux high-availability configurations – enabling customers to make an informed appraisal of required consultancy services.
Linux is a registered trademark of Linus Torvalds. DRBD is a registered trademark of LINBIT Information Technologies GmbH. "hastexo", the hastexo logo, and Ask The Expert Now are trademarks, registered trademarks, or registration-pending trademarks of hastexo Professional Services GmbH. All other names and logos mentioned may be trademarks or registered trademarks of their respective owners.
About hastexo
Florian Haas, Andreas Kurz und Martin Loschwitz founded hastexo as an expert Professional Services organization focusing on high availability solutions. The people behind hastexo learned the high availability ropes at Linbit – a company whose excellent and ubiquitous DRBD storage replication system has become the de-facto standard for highly-available data storage on Linux. The hastexo crew has gained an excellent reputation in the high-availability community and is widely regarded as a team of top-notch experts. Florian Haas is also the principal author of the DRBD User's Guide, lauded as one of the most useful pieces of documentation for high availability software available. More information about hastexo is available on the corporate web site (http://www.hastexo.com). hastexo has a presence on Twitter (http://www.twitter.com/hastexo), on Facebook (http://www.facebook.com/hastexo) and on Google+ (https://plus.google.com/b/110825986772698552287/).
###