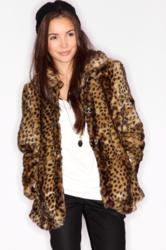 "The beauty of TOWIE and Made In Chelsea is that the stars wear normal, affordable and fashionable clothes, making their style easy for fans to copy."
(PRWEB UK) 8 November 2011
They may be privileged, but the stylish residents of TV's Made in Chelsea have sent sales of luxury brands soaring on fashion comparison site StyleCompare.co.uk. And rival TV show The Only Way is Essex has created a boom in sales of animal prints and more affordable labels as viewers strive to dress just like their favourite "constructed reality" stars.
CHELSEA GIRLS (AND GUYS)
Purchases of Hunter Wellies, an outdoor staple for the leisurely classes, have boomed by 200%, as devoted viewers rush online to bag their own versions of Chelsea's most iconic piece. Tweed blazers, a particular favourite of Chelsea bachelor and heart throb Spencer Matthews, have sent sales of Harrison Tweed soaring by over 800% on StyleCompare.co.uk since the second series began.
Sales of Jimmy Choos have boomed in popularity on the fashion comparison website, with sales increasing over a quarter (27%) since the start of the second series of the hit programme. Coveted labels such as Kurt Geiger (16% increase), Joules (26% increase) and Ralph Lauren (16% increase) have been flying off online shelves as viewers rush online to get their own slice of the luxury lifestyle.
ESSEX BITES BACK
Not to be outdone by their rivals in the West, the cast of The Only Way is Essex (TOWIE) are fast-becoming the nation's most unlikely fashion icons – sales of leopard print have boomed by 45% as lovers of TOWIE rush to snap up their own versions of the Essex girls' outfits.
In fact, purchases of leopard print smoking slippers by Dorothy Perkins have skyrocketed by 950% and as sales boom by over 650%, Boohoo's faux fur leopard print coat (pictured) is already a seasonal best-seller. Topshop's leopard print waterfall skirt is another popular purchase with online sales up more than 100%.
The buck doesn't just stop with leopard prints. All manner of animal-tastic looks, from snake (32% increase), zebra (10% increase) and crocodile (26% increase) have also seen a boost on the site since the show's third series hit our screens.
Other brands which strike a chord with the TOWIE girls have similarly increased in popularity on the fashion comparison website. Glitzy, yet affordable fashion brand Lipsy has received a bump in sales by almost a quarter (24%) in recent weeks.
Johanna Payton, head of fashion at StyleCompare.co.uk commented: "The beauty of constructed reality TV shows like TOWIE and Made In Chelsea is that the stars choose their clothes for themselves, so unlike A-list celebs, this makes their style much easier for fans to copy."
"Fans of Made in Chelsea want their little taste of the glamorous world of champagne, partying and falling in and out of love. Much of what the Made in Chelsea stars wear is expensive, but it doesn't take too long to save up for a pair of Hunter wellies or Jimmy Choos, and it's an investment that noone regrets making. Feeling like you have a little part of the beautiful, glamorous world of Made in Chelsea is a powerful feeling indeed."
"The TOWIE girls have made fashion a huge part of the show's storyline by opening their own boutiques and clothing lines, and their entrepreneurial attitude is a great thing for the viewers to aspire to. The fake tans and cosmetic surgery might make some viewers turn off, but dressing with attitude is something many women are defiantly up for copying and we expect the trend to grow in the run up to Christmas when it's more acceptable to leave the house in head-to-toe leopard print and killer heels."
###