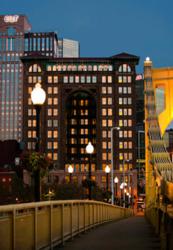 Pittsburgh, Pennsylvania (PRWEB) November 10, 2011
The Renaissance Pittsburgh Hotel, located on 107 6th Street, will be preparing full Thanksgiving meals in their in-house restaurant, Braddock's American Brasserie for the holiday. The hotel itself is also offering rooms for $99 Thanksgiving evening with parking included.
Menu items for the Thanksgiving dinner include an entire turkey carved tableside with giblet gravy and the following side dishes:

Butternut squash fall salad with cranberries, candied pecans and sliced apple and green apple vinaigrette
Roasted pumpkin cream soup with cinnamon ginger crème fraiche
Grilled pineapple cranberry sauce
Honey glazed baby carrots and fresh green beans
Yukon garlic mashed potatoes
Sweet potato soufflé with marshmallow brulee
Assorted fresh breads and rolls
Dessert display
All of the leftovers from the meal will be packaged and sent home with the family to make those delicious turkey sandwiches for days to come. Dishes and cleanup will be done by the staff and the family can enjoy the rest of the evening together in Pittsburgh.
The hotel is also offering rooms at this classic Renaissance hotel for the rate of $99 including parking if the family decides to take mini-holiday vacation. Or maybe some rest and relaxation before the Black Friday shopping begins. To book the hotel for Thanksgiving night, go to
http://www.marriott.com/hotels/travel/pitbr?groupCode=thxthxa&app=resvlink&fromDate=11/23/11&toDate=11/25/11.
Reservations are suggested for the Braddock's American Brasserie Thanksgiving Dinner. Please call 412-992-2005. Dinner will be served from 12 p.m. to 6 p.m. Thanksgiving Day. Prices include the full dinner and leftovers to take home for $44.95 for adults and $19.95 for children ages 5-12.
About the Renaissance Pittsburgh Hotel:
Housed in the classic Fulton Building, this luxurious Pittsburgh, Pennsylvania hotel blends modern styling with traditional architecture and is known for providing the personal service designed for modern contentment. Surrounded by five world-renowned theaters in the heart of the Cultural District, this hotel in downtown Pittsburgh is near the excitement of Heinz Field, PNC Park, and Mellon Arena, as well as the David L. Lawrence Convention Center. 10,000 sq. ft. of meeting space is open for productive business meetings to lavish weddings. A stylish choice among boutique hotels in Pittsburgh, the Renaissance offers lavish 291 guest rooms and nine suites, many with spectacular views. Culture and comfort co-exist at the legendary Renaissance Pittsburgh Hotel. For more information or to make a reservation, call (412) 562-1200 or visit the http://www.downtownpittsburghhotel.com/.
About Braddock's American Brasserie:
Braddock's American Brasserie, an original concept by Sage Restaurant Group, is a celebration of the melting pot of cultures that makes Pittsburgh the city it is today. Braddock's pays tribute to its signature toast, "to good food, healthy families, and great whiskey," by offering a diverse menu including unique whiskey-infused creations and new takes on old Pittsburgh favorites, always using fresh and local ingredients when available. Braddock's Bar is a tribute to the Whiskey Rebellion and Pittsburgh's robust "cocktail culture" history. The bar features a diverse array of signature handcrafted cocktails, regional beers, and extensive wine list, and serves as a downtown hotspot for regular whiskey gatherings, wine tastings and local events. Braddock's is located in the Renaissance Hotel and is open daily for breakfast, lunch, and dinner and also provides in-room dining and catering services.
###