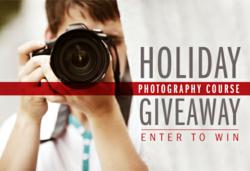 We wanted to do something special for on lucky photographer this holiday season.
New York, NY (PRWEB) November 09, 2011
Throughout the month of November, anyone in the world can enter to win a free photography course from the New York Institute of Photography, the world's largest and oldest photography school.
To celebrate the holiday season, NYIP is offering one lucky winner a full scholarship toward their Complete Course in Professional Photography. And all you have to do to enter is submit a video explaining why you need photography training.
The contest, hosted on Facebook, will run from now until December 2nd. Entries must be submitted as links to an uploaded video, and posted on the contest wall.
On December 12th, in plenty of time for the holiday season, one submission will be selected at random and that person will be enrolled in NYIP's Professional Photography Course at no cost. They will enjoy the high-quality, home-study training that NYIP has provided to aspiring photographers for over 100 years.
"We're so proud of the quality of our courses, and so thankful to the thousands of students we enroll each year," explains NYIP Director Chuck DeLaney, "that we wanted to do something special for one lucky photographer this holiday season."
Find out more about the contest, and how you can enter, by visiting the NYIP's Facebook Page.
About NYIP
The New York Institute of Photography offers three great home-study photography courses. Founded in 1910, NYIP is the oldest and largest photography school in the world, having successfully trained thousands of photographers over more than 100 years. Located in the heart of the art capital of the world, New York City, NYIP brings high quality photography education straight to its students' doors.
# # #