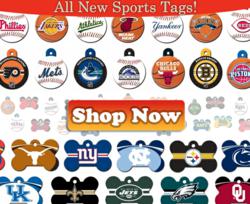 Besides our main products we have a variety of new products that will make great stocking stuffers,...
Fargo, ND (PRWEB) November 09, 2011
dogIDs, a leading provider of personalized designer dog collars, custom dog tags, dog beds and dog leashes, has released its top picks for 2011 holiday stocking stuffers.
"This was no easy task!" says Clint Howitz, pack leader and president of dogIDs. "Besides our main products we have a variety of new products that will make great stocking stuffers, including our dog boots and LED lighted dog ball. Yet when we came together as a team to vote on our top picks, our new personalized dog ID tags and the LeashLocket topped everyone's list."
The top 2011 dogIDs stocking stuffers include:
Personalized Professional and College Sports Team Pet ID Tags – These ultra-light tags, officially licensed by the MLB, NBA, NCAA, NFL and NHL, come with both split ring and s-hook attachments. The high-quality glossy color on these designer dog tags make owners' favorite teams stand out. The circle-shaped tags are 1.5 inches wide by 1 inch tall.
Colorful Personalized Designer Dog Tags – These new fun and sassy personalized designer dog tags come in more than 100 colorful designs and are made from heavy-duty recycled steel. The tags come with a matching split ring and are 1.25 inches in diameter.
LeashLocket Compact Retractable Dog Leash – LeashLocket is a revolutionary, retractable leash that fits in a locket snapped directly to a dog's collar. The compact yet solid design is more comfortable and secure to hold than other retractable leashes. It fits comfortably into the palm of the hand of most dog owners.
Up to four lines of information, with a choice of 14 font styles, can be laser-engraved on the back of the dog tags.
Additionally, dogIDs is offering Secret Santa Specials that enable customers to save more than 20 percent on select products and gift packages, including dog boots, sweaters, outdoor dog bundle packages, and playful dog bundle packages. Customers can join the dogIDs newsletter list and receive an additional 10 percent off. dogIDs offers flat-rate shipping of $2.95 for pet ID tags and $6.95 for all other products.
About dogIDs
Since 1999, dogIDs has been producing personalized dog collars, custom dog tags and unique pet ID tags. In addition to its wide selection of handmade designer dog tags, the company also offers other distinctive dog accessories, including custom leather dog collars, embroidered dog collars, designer dog collars, dog leashes, dog harnesses, dog apparel, dog beds, dog safety and health products, electronic bark collars, electronic dog training collars and many more high-quality accessories for dogs. Visit http://www.dogIDs.com or call 800-720-TAGS (8247) for more information.
# # #