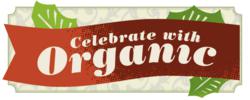 'This campaign is an easy way for all of us to share the gift of delicious and healthy food throughout the holiday season,' says Stonyfield CE-Yo, Gary Hirshberg.
Londonderry, NH and LaFarge, WI (PRWEB) November 09, 2011
Stonyfield and Organic Valley are giving the gift of organic food this holiday season—and providing consumers an opportunity to do the same. The two companies have launched an online campaign to encourage healthy organic eating that will benefit Wholesome Wave, an organization whose programs are designed to make nutritious, locally-grown food available and affordable to America's underserved urban and rural communities.
Everyone who visits http://www.celebratewithorganic.com can enter once a week to win a year of free Stonyfield or Organic Valley products, as well as one grand prize of one year's worth of products and a $1,000 gift certificate to Cooking.com—a leading online kitchenware retailer. For each person that enters the contest, the companies will donate 10 cents each to Wholesome Wave (a total of 20 cents per entry). The minimum donation will be $30,000, and with enough consumer votes, a total of $50,000 could be donated.
"This campaign is an easy way for all of us to share the gift of delicious and healthy food throughout the holiday season," says Stonyfield CE-Yo, Gary Hirshberg. "We love inspiring families to cook foods they can feel good about and providing the peace of mind that comes along with a wholesome organic dinner. Take a second to enter and give your family and families everywhere the opportunity to have a healthier holiday."
"We support our friend Chef Michel Nischan and his organization Wholesome Wave," said George Siemon, founding farmer and C-E-I-E-I-O, Organic Valley. "Keeping farmers on the land and making organic food accessible to all—regardless of income—are core values of our cooperative."
In addition to a public contest, Stonyfield and Organic Valley have also created a special contest just for bloggers. Bloggers can submit essays about how they bring the joys of wholesome organic food into their own kitchen. Interested bloggers can head to http://www.celebratewithorganic.com/bloggercontest to submit their stories. Six finalists will be chosen and featured on the Celebrate with Organic website, where the public will vote for one grand prize winning blogger to receive their own year's worth of free Stonyfield and Organic Valley products, as well as a $1,000 gift certificate to Cooking.com.
At the end of the Celebrate with Organic campaign, Stonyfield and Organic Valley will donate a minimum of $30,000 and maximum of $50,000 to Wholesome Wave. The contest goes through the end of January, and product winners will be chosen and notified weekly.
About Stonyfield
Stonyfield, celebrating its 28th year, is the world's leading organic yogurt company. Its certified organic yogurt, smoothies, milk, cultured soy, frozen yogurt and ice cream are distributed nationally. The company advocates that healthy food can only come from a healthy planet. Its use of organic ingredients helps keep over 200,000 farm acres free of toxic, persistent pesticides and chemical fertilizers known to contaminate soil, drinking water and food. To help reduce climate change, Stonyfield offsets all of the C02 emissions generated from its facility energy use. The company also started a nonprofit called Climate Counts (climatecounts.org) which shows people how they can help fight climate change by the way they shop and invest. Stonyfield donates 10% of its profits to efforts that help protect and restore the Earth. For more information about Stonyfield, its products and initiatives, visit http://www.stonyfield.com or follow Stonyfield on Twitter @Stonyfield and @StonyfieldBiz, and on Facebook: http://www.facebook.com/StonyfieldFarm.
Organic Valley: Independent and Farmer-Owned
Organic Valley is America's largest cooperative of organic farmers and one of the nation's leading organic brands. Organized in 1988, it represents 1,658 farmers in 35 states and three Canadian provinces, and achieved $619 million in 2010 sales. Focused on its founding mission of saving family farms through organic farming, Organic Valley produces a variety of organic foods, including organic milk, soy, cheese, butter, spreads, creams, eggs, produce and juice, which are sold in supermarkets, natural foods stores and food cooperatives nationwide. With its regional model, milk is produced, bottled and distributed right in the region where it is farmed to ensure fewer miles from farm to table and to support our local economies. The same farmers who produce for Organic Valley also produce a full range of delicious organic meat under the Organic Prairie label. For further information, call 1-888-444-MILK or visit http://www.organicvalley.coop, http://www.organicprairie.coop and the cooperative's farmer website, http://www.farmers.coop. Organic Valley is also on Twitter @OrganicValley and Facebook http://www.facebook.com/OrganicValley.
About Wholesome Wave
Wholesome Wave works to provide federal food assistance recipients with the opportunity and incentive to shop at farmers markets where they can purchase locally-grown fruits and vegetables. Wholesome Wave's programs are active in over 25 states, with over 45 partners, over 250 markets and over 1,700 participating farmers. Wholesome Wave is a nonprofit, 501(c)3 organization dedicated to supporting small- and mid-sized farmers and making fresh, healthy, locally grown fruits and vegetables available to all people, regardless of income. Wholesome Wave partners with farmers markets, community leaders, healthcare providers, like-minded nonprofits and government entities to implement programs that benefit consumers in under-served communities and the farmers who provide for them. Wholesome Wave's highly successful Double Value Coupon Program gives participating farmers markets the tools they need to redeem SNAP benefits (formerly known as Federal Food Stamps)—as well as the Supplemental Nutrition Program for Women, Infants and Children (WIC), Farmers Market Nutrition Program (FMNP) and the Senior FMNP—and allows recipients of those benefits to buy more fresh, healthy foods for their families. With the goal of influencing public policy and shifting federal funding to support innovative, market-based programs that meet its goals, Wholesome Wave develops and implements systems and processes that track program success and the health and purchasing habits of the people it serves. For more information, visit http://www.wholesomewave.org
###