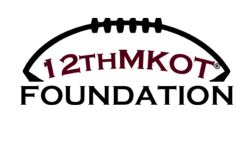 "50 years of dedication to Texas A&M Athletics"
College Station, Texas (PRWEB) November 08, 2011
Former Texas A&M University Coach Jackie Sherrill is set to host the 12th Man Kickoff Team Foundation's (12thMKOT®) Annual Scholarship Dinner on Friday, November 18 in College Station, Texas. The third annual event will raise funds for Texas A&M's Letterman's Association, the Emory Bellard ALS Clinic in Round Rock and the 12thMKOT® Foundation.
Created in 2007, the 12thMKOT® Foundation is a non-profit organization that provides scholarships to Texas A&M University students. The Foundation's members make charitable appearances across the state, touching A&M clubs, children in hospitals and other community activities where people need a smiling a face and a helping hand.
"This event really is what the Foundation's all about: Aggies helping Aggies in need," says Foundation President, Warren Barhorst. "Pulling together to celebrate and help others; it truly is what this University and this Foundation stands for."
In addition to raising funds, the event is sure to also raise a few laughs as former A&M coaches Stallings, Sherrill, Slocum and Wilson along with former players Dennis Goehring & Jack Pardee of the Junction Boys, Larry Stegent, Jacob Green, Kevin Murray, Chris Dausin, Hunter Goodwin and many others roast Kyle Field Legend and longtime Aggie Athletic Manager and current Associate Athletic Director, Billy Pickard.
The ribbing has already begun, as Chet Brooks, a former A&M football player who went on to play for the San Francisco 49ers and started in Super Bowl XXIV, recalls Pickard's contribution to his past teammates. "Pick was an inspiration to all those that know him. During my time at A&M, he was energetic and passionate about A&M, the game of football, his job, and those white cotton boxers, so fondly called 'Pick Draws'," laughs Brooks. "Billy has devoted 50 years of his life to Texas A&M and has survived working for Coach Bryant, Stallings, Bellard, Wilson, Slocum, Franchione, Sherman and myself," says Sherrill, "You better believe there are stories to be told!"
The 12MKOT® Foundation Scholarship Dinner will be held on Friday, November 18, 2011 at The Zone Club at Texas A&M University's Kyle Field. A VIP Social will kick off at 5:30pm and the official program will begin at 6:30pm. A silent & live auction will feature great sports memorabilia, A&M sports related items, hunts and more.
Tables can be reserved until November 14th if not sold out by then. Sponsorship levels include: 12thMan ($10,000), Bonfire ($5,000), Kyle Field ($2,500), and Reveille ($1,250). Sponsors will receive recognition in communications leading up to the dinner and throughout the event. To be a sponsor or reserve a table, please contact Andrea Dry at 800.481.1876. General admission tickets are available for $100 each and must be purchased online at http://www.12thMKOTdinner.eventbrite.com. For more information you can also visit the Foundation's website at http://www.12thMKOT.org.
###