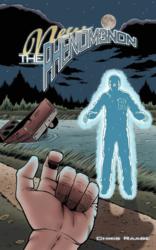 Omaha, NE (PRWEB) November 08, 2011
The New Phenomenon tells the tale of Christian Pearson, a phenomenon on the athletic field and in the classroom, whose life is changed forever by a freak accident before his freshman year of high school. He is forced to hide a secret that ultimately could cost him his friends, his family, his freedom, and his life.
Chris Raabe's intense and fast-paced thriller, The New Phenomenon, is now available at http://www.writelife.com and major online retailers such as Target, Barnes & Noble and Amazon. Raabe's book launch celebration will be held November 22, from 6 to 9 PM at Roja Restaurant near 171 and West Center Road in Omaha, Nebraska.
The author, Chris Raabe, is from Omaha, Nebraska. He began his career as a middle school teacher in Phoenix, Arizona. He has spent fourteen years teaching and coaching middle school and high school students. This is Chris' first novel. He currently teaches seventh grade English in Millard Public Schools in Omaha, Nebraska.
The New Phenomenon is published by WriteLife LLC, a collaborative publishing company based in Omaha, Nebraska. For more information on this book or any of WriteLife's other publications, visit http://www.writelife.com.
###