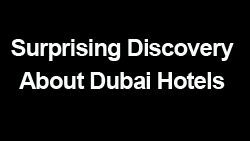 Dubai Hotels offer stunning variety that few destinations around the world can match.
(PRWEB) November 18, 2011
While many travelers seek the pleasures of one exotic destination, Dubai offers globetrotters a variety that is quite unmatched. From 7 start hotels like the Burj Al Arab to the hideaway Al Maha Resort in the middle of a desert – Dubai's hotel variety is amazingly diverse.
This variety has contributed to a surge in visitors to Dubai and increased occupancy. Recent data from TRI Hospitality Consulting shows that the occupancy rate in Dubai rose to 78.6% in September compared to 71.8% in the same month one year ago. The strong recovery in occupancy prompted hoteliers to increase room rates by 10.9% for the month, resulting in a 21.5% growth in RevPAR (revenue per available room) compared to the same period a year ago, TRI found.
As James Peter a frequent traveler to Dubai shared, "I was inspired by a book on Dubai to visit this desert city. To my surprise, the city is home to some of the finest hotels in the world, from the famed Burj Al Arab to the Emirates Towers by the Jumeriah Group."
"The best part is", James continues, "you can also find budget hotels that offer clean rooms and great service for a few hundred dollars. During our trip, we tried different grades of hotels and we were delightfully surprised that most of the [hotels offer top class service."
"One of our biggest discoveries was the Al Maha Reort", James explained. "It lies bang in the middle of the desert. The Al Maha Desert Resort resembles an ancient Bedouin encampment and is a secluded, internationally-awarded hideaway resort that offers personal and seductive experiences of the region's history and hospitality, in absolute comfort."
Besides [Dubai hotels, the city hosts the world's richest horse race, million dollar lotteries, international tennis, golf tournaments and month-long shopping festivals. It sports the world's tallest and the most lavish hotel - the Burj Al Arab, shaped like a billowing sail - perched on an artificial platform in the sea.
Some the other places that travelers will find interesting in Dubai are the Creekside park, the Bird sanctuary, Wild Wadi Water park, an indoor ski resort, and The Gold Souk.
To make the most of holidays, travelers are advised to visit http://www.todubai.org and participate in the ongoing conversations about Dubai and Dubai Hotels.
###