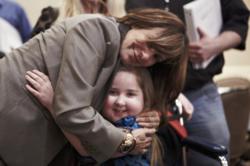 "This work is incredible and has never taken place before." --Dustin Hoffman
Los Angeles, CA (PRWEB) November 08, 2011
Tomorrow, Nov. 9, at the Hilton LAX, Victoria Jackson and Bill Guthy (of Hollywood cosmetic industry and Proactiv® fame) will personally fly in patients of an auto-immune disease called Neuromyelitis Optica (NMO). This rare disease is often believed to be Multiple Sclerosis (MS) and is usually misdiagnosed as such (source: Guthy-Jackson Charitable Foundation).
Patients from all over the United States will receive free travel, accommodations, dietary information, insurance guidance and will be updated with the most recent research findings from top doctors in the world. As this disease affects more women than men, many will also be treated to a professional makeover, Hollywood style. In short, they will be given what no other patient in the world can claim to receive in a broken medical system: the "royal treatment."
This conference, held every year since Mr. Guthy and Ms. Jackson learned their daughter was diagnosed with this disease, has helped countless patients. The Guthy Jackson Foundation has funded nearly $18 million of research and coordinated the efforts of over 80 scientists, which is unheard of in the research community. Most importantly, as the disease has similar symptoms to MS, scientists estimate that one in 10 MS patients actually have NMO. Tragically, the treatment for MS does not actually work for NMO, in fact it worsens the condition. One of the purposes of the conference and foundation is to expand awareness for this disease so more doctors will test for NMO to help prevent paralysis or blindness that can rapidly set in when NMO patients are mistakenly treated for MS. Many of the researchers believe that finding the key to a cure for NMO will also open the door for a cure to MS and perhaps many other autoimmune diseases such as Lupus.
For more information on the Guthy Jackson Charitable Foundation and the conference, please contact Jennifer Harris at (310)962-5203 or the website: http://www.guthyjacksonfoundation.org.
###