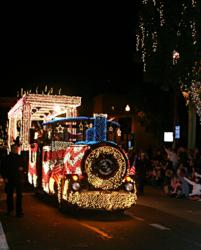 A variety of events coupled with wonderful winter weather makes Tempe the perfect place to enjoy the holiday season.
Tempe, AZ (PRWEB) November 10, 2011
The holidays are quickly approaching and Tempe, Arizona is ready for the excitement to begin. Families can get into the holiday spirit with festive parades, holiday lighted displays, snow fall in the desert and an art festival beyond compare. A variety of events coupled with wonderful winter weather makes Tempe the perfect place to enjoy the holiday season.
Snow in the desert? It's possible in Tempe! Visitors will delight in the magical snow that will appear at the Tempe Marketplace District Stage on November 23 at 6:30 p.m. An ice-skating performance will entertain as it begins to snow, and at 7:00 p.m. the 60-foot holiday tree lighting will complete the holiday festivities. Nightly snow falls will continue throughout the holidays from November 25 to December 24 at 7:00 and 8:00 p.m.
ZooLights will be held at The Phoenix Zoo from November 24, 2011 through January 9, 2012 from 6:00-10:00 p.m. nightly. The ever popular ZooLights features more than 3.5 million glowing lights and 600 glimmering animal light sculptures. The newest attraction, Polar Slides, will give families a chance to sled, even on a warm winter's evening. The 180' long simulated snow tubing experience is open to those 4 and older.
Downtown Tempe will be bursting with shimmering lights throughout the season. The Tempe Fantasy of Lights Opening Night Parade will take place on Saturday, November 26 at 6:00 p.m. Floats, bands and marching units will lead the way for Santa, who will end the evening taking special gift requests from children. The Mill Avenue District provides the perfect ambiance to enjoy a stroll through the historic, brick-lined sidewalks to get a closer look at the light displays, which will remain through the New Year.
More than 400 fine artists and crafts persons will fill the Mill Avenue District during the Tempe Festival of the Arts, December 2-4 from 10 a.m. to dusk daily. Art ranges from jewelry to sculpture to photography to woodworking. This free festival provides a street fair atmosphere with entertaining performers, live music and hands-on activities for children. Food, beer and wine enthusiasts are sure to find new favorites at the Arizona Wine Festival and Art of Beer, featuring wines from Arizona vintners and three of Tempe's local microbreweries.
Celebrate the season and the beauty of the Desert Botanical Garden at the 33rd annual Las Noches de las Luminarias, December 8-30, 2011. The Garden will be aglow with more than 8,000 hand lit luminarias. Guests can purchase hot cider, stroll through the Garden and listen to musicians such as Dickens Carolers, handbell ensembles and other entertainers. Las Noches de las Luminarias is a family tradition in the Phoenix metropolitan area and a reminder about the true beauty of the season.
Revel in thousands of holiday lights on water rather than land at the Tempe Fantasy of Lights Boat Parade on Saturday, December 10. The boat parade will feature as many as 50 illuminated watercraft on Tempe Town Lake. Santa will arrive in Tempe Beach Park at 6:00 p.m. and the parade will begin at 7:00 p.m. Visitors can walk a short distance to the adjacent Mill Avenue District for dinner before or dessert after this fun family-friendly event.
For more information about holiday events in Tempe or to plan your Tempe vacation, visit http://www.TempeTourism.com or call 800-283-6734.
About Tempe Tourism Office
The Tempe Tourism Office is a non-profit organization devoted to marketing Tempe, Arizona as a desirable visitor and group destination site. The Tempe Tourism Office's mission is to provide visitors, media professionals and meeting planners with information on Tempe hotels, Tempe restaurants, Tempe entertainment and local points of interest. To learn more about Tempe, Arizona please call 480-894-8158 or 800-283-6734 or visit our Web site.
###