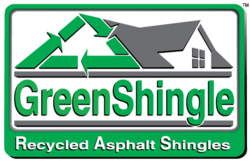 the best thing is that the process doesn't cost the homeowner anything
Kansas City, MO (PRWEB) November 09, 2011
The latest "go green" effort by one of North America's top insurance replacement roofing, siding and guttering contractors, Reroof America has partnered with the green shingle program. This initiative to adds to Reroof America's commitments their customers, the roofing industry and now the environment.
The reason for this initiative is that insurance carriers own the salvage rights from their insurance claims for roofs. These carriers are now helping the planet by recycling their Asphalt Shingle salvage. Reroof America works with Green Shingle to safely recycle the shingles, turning them into environmentally friendly materials versus going into landfills. "And the best thing is that the process doesn't cost the homeowner anything and it's a great way to go green and help our environment", said Mark Lenzer, Vice President of Reroof America Management (the parent company of Reroof America Contractors).
Simple Directions For Home Owners:
1. Verify if Green Shingle program is in your area (Right now we are starting in the Kansas City Market and the Minneapolis, St. Paul areas).
2. Use a green shingle contractor like Reroof America to reroof your home.
3. Tell a friend about your contribution to planet earth!
How Recycling and Reroof America Helps:
1. Recycling Asphalt Shingles redirects TONS of waste-product from our-burdened landfills. (as one of the nations top storm and insurance replacement contractors... Reroof America makes a considerable contribution to this.)
2. Recycled shingles are used in the manufacturing of hot mix asphalt which is used to pave roads, driveways, and parking lots as well as other non-road use.
--- Asphalt Shingles actually make a stronger product (for roads etc) than standard asphalt because of the fibers used in shingle manufacturing.
Reroof America is already a member of the United States Green Building Council (USGBC) and a certified Green Roofer by GAF Materials Corp. (North America's Largest Roofing Manufacturer)
Reroof America makes going green even easier... when reroofing consider the environment!
About Reroof America
Reroof America Contractors, and Reroof America Management Corporation are owned and managed by J.R. Emrich, President. The company's began in the roofing industry in 1979. J.R. Emrich and his companies operate debt free and utilize multiple suppliers in several states. Bonding capability is up to 4 million dollars. The Dun and Bradstreet credit rating for the company is 1R2 and the D&B # is 83-696-7372.
Reroof America is based out of Edmond, OK, having completed over 60,000 roofs in over 15 states over the past 32 years.
Reroof America's primary business is residential roof replacement; however several locations have commercial divisions, window divisions and offer other residential construction solutions. Reroof America is fully licensed and insured in all states within which it operates, and is a member of NRCA, BBB and multiple local and regional associations.
For Information About Reroof America Contractors, Reroof America Corporation, Reroof America Management, or Metro Roofing, contact Mark Lenzer at: 405-330-5400 or mlenzer(at)reroofamerica(dot com) or follow reroofamerica on facebook or Google+.
###