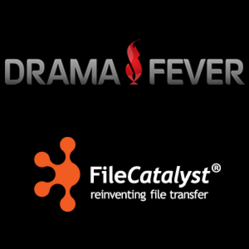 FileCatalyst saves us precious time and money through its automation tools and blazingly fast file transfer.
Ottawa, ON (PRWEB) November 16, 2011
Unlimi-Tech Software, developer of accelerated and managed file transfer solutions, is pleased to announce that DramaFever, the leading online distributor of Asian Video Entertainment, has chosen FileCatalyst Direct for accelerated file transfer.
DramaFever has its roots providing Korean dramas to an eager North American audience, but has grown to become a provider of televised entertainment from around the globe. DramaFever's success is due not only to availability of content previously unavailable in North America, but also to their vibrant community of users and subscribers. To best serve this community, DramaFever has rapid turnaround from original broadcast to online availability as a primary goal.
Before adopting FileCatalyst, this goal was a challenging one to meet. Partners needed to deliver files up to 20 GB in size, opting to use FTP or shipping hard drives via courier. This process was very inefficient, costly, and prone to errors. DramaFever needed a better method, and FileCatalyst delivered.
"As the leading online distributor of Asian Video Entertainment, it is critical for DramaFever to get the latest titles as soon as possible after airtime," says Romanos Fessas, VP of Product at DramaFever. "FileCatalyst saves us precious time and money through its automation tools and blazingly fast file transfer."
Using FileCatalyst, the workflow has become automated, saving time spent by partners and employees handling file exchange. Since files are sent using the accelerated FileCatalyst protocol, they arrive at the highest possible speed. This combination of automation and speed means that new content can be made available in hours or minutes, instead of days.
"We tried many competitive solutions," continues Romanos Fessas, "but none stood up to FileCatalyst's great customization tools and the ability to pre-package a client for our international licensing partners."
File transfer is inherently a two-sided process, and both the sender and receiver need to be "on board" in order for it to be effective. Since FileCatalyst provides free automation tools for any number of client-side users, getting up and running is a painless process.
"Our customers do not want to force their users to purchase software licenses in order to exchange files," says Chris Bailey, CEO of Unlimi-Tech. "FileCatalyst licensing is server-based, allowing DramaFever to provide a high level of service to their partners without burdening them with additional costs."
About DramaFever:
Since our launch in August 2009, DramaFever quickly became a leading cross-border distributor of international video entertainment, particularly in North America. The Company licenses videos from major media companies around the world and distributes them in high quality with English subtitles via DramaFever.com as well as syndication partners such as Hulu. Content partners include KBS, MBC, SBS, CCTV, Shanghai Media Group, MediaCorp, FUNimation, Asahi TV, ABS-CBN, Group Eight, ISplus, JS Pictures, and many others.
About Unlimi-Tech Software:
Located in Ottawa, Canada, Unlimi-Tech Software is the creator of FileCatalyst, the world's leading file transfer solution. Founded in 2000, the company has more than nine hundred commercial and government clients. FileCatalyst technology is a software-based solution designed to accelerate and optimize file transfers across global networks. FileCatalyst is immune to the effects that latency and packet loss have on traditional file transfer methods like FTP, HTTP or CIFS. FileCatalyst addresses these issues for enterprise WAN, satellite and wireless communications, media and content providers, and government and military organizations.
###