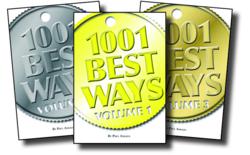 If you ask enough people the right questions, you're bound to get the right answer sooner or later.
Los Angeles, CA (PRWEB) November 13, 2011
1001BestWays.com, which daily publishes Best Ways to handle life's major challenges, announced a list of 25 Best Ways to Maintain A Relationship, as suggested by its readers.
"If you ask enough people the right questions, you're bound to get the right answer sooner or later." That's the thinking behind 1001BestWays.com, which publishes its readers' Best Ways to raise children, save money, advance a career, fall in love, stay in love, and more.
Their unedited responses are read daily by over 15,000 Twitter followers (@1001BestWays), the readers of 1001BestWays.com, and the buyers of the book series.
"1001 Best Ways is the lifetime experiences of hundreds and thousands of people.", says publisher Paul Angles, "Every day, I am humbled by the collective wisdom people so willingly share."
Best Ways To Maintain Your Relationship
Men Are Not Women Who Are Not Men: Understanding the emotional differences between men and women and learning to meet each others needs. It is best to understand these differences to avoid miscommunication. Men need to be coached to understand how women problem solve so that they know that LISTENING and affirming feelings is the way to a womans' heart. Men tend to want to solve problems and it comes off as insincere and superficial to a woman.
No One Ever Forgets What's Said In Anger: Think before you speak in anger. You can forgive someone for a hurtful comment but you never really forget it - so be kind even when you're upset and you will have nothing to regret.
Let Them Know What's Going On: Talk to your significant other. If you're going to be busy with work the next few weeks, let them know ahead of time so they're not left wondering where you've disappeared to and why you never spend time together anymore.
Keep It Truthful: Keep it truthful. No matter what happens you got you keep a open mind and open communication.
Start The Day In Separate Bathrooms: Separate bathrooms. No matter what gender combination the couples are, hygiene and neatness combined can destroy some framework. People are generally a little bit irritable in the morning, and if they aren't, they can still start the day off the wrong way by finding hairs in the sink or the toothpaste crusting over from being uncapped.
Compromise: My secret to a happy healthy relationship is the gift of compromise. In a relationship when you and your mate do not see eye to eye find that middle ground and compromise. It lessens arguments and anger towards each other.
Let Them Know They're Appreciated: To maintain a happy, healthy relationship, it is important you let your partner know you appreciate them. Tell your partner 'thank you' every day.
Learn To Resolve Conflicts: Learn how to solve conflicts fairly. Problems in the relationship should not be about who wins and who loses, they should be seen as tools to strengthen and grow in the relationship. Learn the art of compromise and appreciate each person's opinion as a valid point.
Date Your Best Friend: Date your best friend,you can be your self around them and still have fun. It's easier to trust someone you know and your also less likely to hurt someone you already care about.
Be Realistic: Be realistic in your expectations. Remember that when someone "disappoints" you, it is more likely that your expectations were unrealistic than that THEY did anything wrong.
Talk About Everything: The biggest thing that my partner and I do to maintain our relationship is talk to each other. We talk about EVERYTHING. We tell each other about our days and have longer, deeper conversations about serious issues that may come up. We talk openly, honestly, and as often as possible.
Talk Things Through: I have learned that communication is the most important aspect in a relationship. You must learn to talk things through, or else fights about the same things will happen over and over. If you can't talk openly and honestly to your partner, you shouldn't be in relationship with them.
Patience Is Key: Staying in a committed relationship is simple if you have patience. Patience is key to maintaining a relationship.
Accept. Don't Change: Accept the other person as they really are. For the most part, people aren't going to change, so rather than endless arguments you need to figure out how to best accept and deal with the person as they are. For example, if you are a neat freak and your partner is not, it's better to accept that in order to have the house as clean as you want it you will be doing most of the cleaning. Rather than try to change the other person, just make something else his or her 'job' to balance out the effort.
Bite Your Tongue: Having the ability to bite my tongue and think about how I would feel if my partner said that to me. That usually puts things in to perspective and I am able to rephrase what I was going to say in a kinder way.
Laugh Together: Never lose your sense of humor. Sometimes after being in a relationship for a long time it is easy to become too wrapped up in mundane, everyday life. If you can always be able to laugh with your partner, even over something silly and retain your sense of humor your relationship will always be fun and interesting. The saying laughter is the best medicine is definitely true for relationships!
Do Something That Will Be Appreciated: I try to do something every day that I know my husband will really appreciate above and beyond just everyday things. I may surprise him one day by doing one of his chores for him to get it out of his way. I'll pick up something special for him if I'm out. I try to pick at least one thing to do every day that I know will make him smile, it doesn't take much just to let someone know you appreciate them and think about them.
Pay Attention To Her All Day: Show here you care by talking to her all day. Give her all of your attention & tell her you love her everyday.
Let Him Have Hobbies: My secret to a successful committed relationship is to give my partner enough space so that he can have his own hobbies and spent time doing the things he loves to do,at the end of the day this actually makes him want to spend more time with me.
A Surprise Every Day: To maintain my own happy relationship, I try to surprise my significant other everyday. It could be anything from a good morning text message, a batch of cookies, or having dinner made (or delivered, hah) for when they get home!
If You Can Say It, You Can Get Over It: My boyfriend and I have maintained a long-term relationship for 5 years and the key is communication. If you feel like you can tell your partner anything, you can get over problems you may have.
No Secrets: The most important secret to keeping a relationship healthy is to have no secrets. Well, not quite "no" secrets -- it is okay to plan a surprize party or keep a gift secret until time to give it. Otherwise, the minute something is being kept secret, that's the indicator of a problem. Secrets about spending money, where a person's been, who time has been spent with -- all these are indicators that something is going wrong. If I am tempted to keep such a secret I need to ask myself why -- and I need to jetiison the secret.
Just Be Honest: Be honest to each other. Mistakes, disappointments and all else should be shared as well just like successes and glories.
Show You Care: Show you care. Never be afraid to show how much you care.
Constant Communication: I maintain constant communication with her. I also compliment her when she dresses up in something nice.
The Story of 1001 Best Ways
Paul Angles, an Internet Marketing Director, was driving home from work, stuck in traffic, and thinking about ways to cut back on the family budget, when he heard a commercial for an Internet Service Provider--his Internet Service Provider!--offering new subscribers $20 off per month for the first year.
Suddenly inspired, he called them and asked for the new subscriber rate. He was promptly turned down. Undeterred, he asked the operator if he could cancel his account and restart it at the new rate. That did the trick. With less than 5 minutes work, he saved $240 without having to cut back on anything.
It was so much fun saving so much money that he began to wonder who else he could call. And which of his friends he could tell. And what ideas they might have. And how there ought to be a website that collected those great ideas and made them available.
Soon, he created 1001BestWays.com and began collecting Best Ways by the hundreds, posting them hourly on the website, tweeting them, and finally, collecting them into a series of books available in Kindle and in paperback on Amazon.com, BN.com, and many others. 1001 Best Ways, Volume 4, is scheduled for release in November 2011.
###