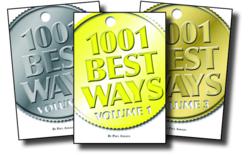 If you ask enough people the right questions, you're bound to get the right answer sooner or later.
Los Angeles, CA (PRWEB) November 14, 2011
1001BestWays.com, which publishes the Best Ways to manage life's biggest challenges, announced 25 Best Ways To Travel, as submitted by its readers.
"If you ask enough people the right questions, you're bound to get the right answer sooner or later." That's the thinking behind 1001BestWays.com, which publishes its readers' Best Ways to raise children, save money, advance a career, fall in love, stay in love, and more.
Their unedited responses are read daily by over 15,000 Twitter followers (@1001BestWays), the readers of 1001BestWays.com, and the buyers of the book series.
"1001 Best Ways is the lifetime experiences of hundreds and thousands of people.", says publisher Paul Angles, "Every day, I am humbled by the collective wisdom people so willingly share."
Learn A Few Phrases.
If going to a country where your native language is not the primary one learn a few simple phrases in that lands tongue. It is astonishing how friendly accepting and helpful people are if they realize you are trying to speak their language and not act arrogant. Four or five simple phrases will open so many doors you will find that you can communicate quite well anywhere you go.
Go To Out-Of-The-Way Restaurants And Eat With Locals.
always visit out of the way restraunts. real food does not come from a chain. people who enjoy ethnic food should make that a part of travel destinations always. everyone should visit a citys local eateries.
Solid Soaps And Shampoos Aren't Subject To TSA.
If you're getting a plane soon, pick up some solid soap - AND solid shampoo. You don't have to declare solids like shampoo bars, so you can keep your hair clean without all the fuss over keeping your bottles under 3 ounces and worrying about liquids as carry-ons.
Buy Tickets On Tuesday.
Always buy tickets for a Tuesday, their always cheaper! Also, If possible buy a ticket a couple weeks in advance when you wait til the last minute you WILL pay more!
Detailed Travel Guides With Prices And Hours Are A Must.
Buy a detailed travel guide for the area that lists prices and hours for all museums and attractions. Some places (especially in Europe) will be closed on Monday or Tuesday, and if that's when you were planning to visit, you'll be out of luck. If you know when each place is open, you can schedule your days accordingly and you won't be kicking yourself for missing the Louvre!
Use Tripit.com.
I found a useful website: tripit.com. You can forward all your confirmation emails (flights, hotels) to them, and you will get a travel schedule immediately. They also provide relevant information, e.g. flight status, nearby maps.
Only Bring One Credit Card.
One secret I have learned to smart traveling is bringing only one credit card with you. That way, if you happen to lose your purse or wallet, you can simply cancel that credit card. Likewise with this assumption, it is also smart to separate the cash you carry such that you won't lose it all if something were to happen.
Buy Bus Tickets Online.
I travel to new york using the greyhound bus. i always buy my ticket online because it saves me $10 bucks all the time
Roll Your Clothes.
My best travel secret is to roll your clothes instead of folding them. Rolling clothing takes up less space in your luggage and creates fewer wrinkles in the fabric.
Serious Siesta In Espana.
When you are traveling in and around Spain, it is important to keep in mind the culture of the country--don't expect to do any major shopping during the siesta time (approximately 2pm to 5pm). Most the stores shut down so that people can head home to la comida (lunch). If you do need to pick something up during this time, head to El Corte Ingles, the huge department store which never closes for siesta. They have everything you could ever need or want, but be prepared to pay a little extra for it. To get bargains, wait for the family-owned businesses to re-open around 5pm.
Plan To Save Gas.
My secret is planning my route to save gas. Plus I use that to find the most scenic route.
Make Do With Less.
My best travel tip involves what to pack and how to pack it. First and foremost I always pack on the light side. There is no need to over pack "just in case you may possibly need something" as you can almost make do with less. I roll up everything that can be rolled. You'd be quite surprised at how much less space is taken up using this simple method.
Pack Lighter Than You Think You Need.
The best travel secret is always pack light you never know what or who you might bring back with you:) Also, try not to carry cash with you for safety reasons.
Have A Plan B.
Prepare beforehand and prepare for the worst. Always have a first aid and a small survival kit. Bring a map, and have a plan B in case your planned itinerary won't come through.
Stop Every 2-3 Hours.
The best thing I've found to do on a road trip is stop every 2-3 hours in order to stretch my legs somewhere, even if that means just a quick walk. It makes you feel less tired over the course of the trip, and makes sure no one gets cabin fever in the vehicle!
Because You Have To Eat.
You're always going to have to eat when you travel. The best idea is take food with you (including snacks) so that you don't have to buy expensive snacks and drinks. It'll save you money to buy or spend on other things you want to do!
One Bag.
Take only one bag! Most people overpack anyway and now that they are charging for bags the smaller the amount that you bring the lower your cost and the easier and quicker it is for you to get out of the airport. If you really need something that you didn't bring, you'll be able to get it at your destination.
Groupon.
Before your trip, look online for the best deals (like the Groupon website). This makes you feel like you are getting a better value and saving money!
It Pays To Be Chinese.
When I went to China I learned that when you want to purchase items from vendors, if you are not Chinese, you should ask someone who is Chinese to purchase the item for you. I am half chinese and my mother is full chinese. If I went to ask for an item they would charge me a way higher price than if my mother asked. Whenever I wanted something I would then show it to my mother and walk away so she could negotiate a lower price.
Be On Time.
My best travel advice is to be on time for wherever you're going. It's worth it to be on time to not be left and avoid potential unwanted situations.
Neck Pillows Rock!
The best travel tip when riding a plane is to always take a neck pillow. Nothing is more frustrating than being on a long flight and not being able to get some rest and sleep comfortably.
Begin At The End.
If you are going to a theme park, such as Disneyworld, most people know that it is better to get there early. What I also do is, upon entering, immediately go to the farthest point in the back and work my way through the attractions towards the entrance. This goes against the bulk of the traffic flow. Until you meet the mass of people working there way to the back, you have much less crowded conditions.
Know The Currency.
The most important thing that I have learnt during international travel is to always have the knowledge of currency used in the country one is travelling to. Keep various denominations of the currency and prefer to keep traveller's checks as they can be easily redeemed at any local bank.
Hotels Price Match.
To find the best hotel rates, compare rates that you find on the hotel's own website with rates you find on search engines for that hotel. Most hotels will honor the lower price.
Pay What The Locals Pay.
everything is always cheaper after you get there. Book a couple nights near the airport etc. for your arrival and a night or two just before your departure. Ride the local bus/tram/train systems and pay what the locals pay. Be a tourist, without paying like one.
The Story of 1001 Best Ways
Paul Angles, an Internet Marketing Director, was driving home from work, stuck in traffic, and thinking about ways to cut back on the family budget, when he heard a commercial for an Internet Service Provider--his Internet Service Provider!--offering new subscribers $20 off per month for the first year.
Suddenly inspired, he called them and asked for the new subscriber rate. He was promptly turned down. Undeterred, he asked the operator if he could cancel his account and restart it at the new rate. That did the trick. With less than 5 minutes work, he saved $240 without having to cut back on anything.
It was so much fun saving so much money that he began to wonder who else he could call. And which of his friends he could tell. And what ideas they might have. And how there ought to be a website that collected those great ideas and made them available.
Soon, he created 1001BestWays.com and began collecting Best Ways by the hundreds, posting them hourly on the website, tweeting them, and finally, collecting them into a series of books available in Kindle and in paperback on Amazon.com, BN.com, and many others. 1001 Best Ways, Volume 4, is scheduled for release in November 2011.
###