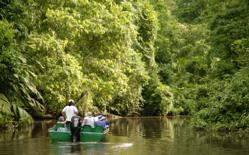 Up to 20 percent of Americans suffer from some type of seasonal affective disorder. Warm-weather travel options combat the symptoms of the winter blues.
Helena, Alabama (PRWEB) November 08, 2011
As temperatures drop and snow begins falling across much of the country, International Expeditions is reaching out to adventurous travelers with three warm-weather travel options to Costa Rica, Panama and India which are guaranteed to combat the effects of seasonal affective disorder, or the "winter blues."
According to the American Academy of Family Physicians, up to 20 percent of Americans suffer from some type of seasonal affective disorder, a type of depression triggered by the change in seasons and shorter days. And while lack of sunlight can trigger these feelings, a tropical escape — complete with vitamin D-boosting rays and a variety of physical activity options — can help restore the spirit.
Each of these three small-group tours feature warm temperatures, lush landscapes and opportunities to spot wildlife and savor native cuisine. True to IE's legacy of authentic and immersive experiences in the wild, local naturalist guides and expedition leaders offer travelers unparalleled insight into daily life and important conservation issues affecting these regions. Not only will guests leave their winter getaways refreshed and recharged, they may also be inspired to preserve these fragile areas.
Costa Rica
IE's nine-day Costa Rica's excursion reveals the country's mystical Montverde Cloud Forest, active Arenal Volcano, wild jungles, crystalline coastlines and idyllic beaches. In addition to enjoying white-water rafting, horseback riding or visiting a canopy zip-line, this expedition includes two nights in Sarapiquí, a region of primary forests and banana plantations. Costa Rica tour highlights include discovering Arenal Volcano from hanging bridges strewn through the treetops, relaxing in thermal springs, feasting on a traditional Costa Rican dinner cooked by a local host and visiting a coffee plantation. Space on winter Costa Rica departures starts at $2,798 per person.
Panama
During IE's nine-day Panama tour, guests can choose between hikes, water excursions and more as they explore this country's thick verdant jungles, modern marvels and sparkling waters. This unique itinerary combines spectacular wildlife viewing with a look at the indigenous Emberá and Ngobe Bugle cultures and an exclusive dinner at the Miraflores Locks. Highlighting the journey are two days at a family-owned coffee plantation and private nature reserve in the cloud forests Chiriquí Highlands, followed by snorkeling in the crystal waters off the Caribbean Island of Bocas del Toro. Space on the December and February Panama tour departures starts at $4,098 per person.
India
With over 20 years of experience leading guests in India, IE offers a spectacular view of the subcontinent's kaleidoscope of colors, sights and sounds. International Expeditions pairs visits to the renowned monuments and extravagant temples of India with six nights at the premier tiger reserves — Kanha and Bandhavgarh National Parks. In the reserves, guests board elephants and trek into the jungle to observe Bengal tigers, see dance performances by area villagers, and enjoy cooking demonstrations using locally grown organic produce. Space on the 18-day India tiger safaris starts at $6,198 per person.
Celebrating 31 years of nature travel, International Expeditions specializes in small-group journeys to Earth's most exhilarating destinations. A pioneer of environmentally responsible travel, IE is committed to preserving natural habitats and improving the welfare of the people and communities it visits. International Expeditions has been named to Travel + Leisure's list of "World's Best" tour operators & safari outfitters seven times and to National Geographic ADVENTURE magazine's list of "Best Adventure Travel Companies on Earth."
For more information or a brochure on 2012 journeys, call International Expeditions at 1-800-234-9620, e-mail nature(at)ietravel(dot)com, or visit http://www.IEtravel.com.
###