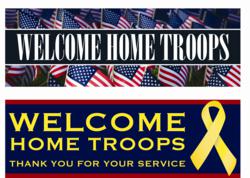 We must honor the bravery and sacrifice of the American service members who have been fighting for us.
Hillsborough, NC (PRWEB) November 08, 2011
Carrot-Top Industries, America's premier provider of military flags and accessories for over 30 years, today announced that it is offering new flags and banners to welcome back Iraqi war veterans and troops returning from overseas. The new flags and accompanying street banners are available starting this week, with Veterans Day falling on Friday, November 11th.
The Welcome Home Troops flags and banners feature one design with American flags and another with a yellow ribbon. Both designs say "Welcome Home Troops." The homecoming designs are available in different formats including 3'x5' flags, 2'x6' banners, street banners, across- the-street banners, magnets, stickers and window clings. Carrot-Top also offers a wide assortment of US flags, military flags and POW/MIA flags, all made in America and stitched to standard using the highest grade nylon, cotton and polyester materials.
Approximately 39,000 service members are beginning the drawdown of operations in Iraq, which President Obama announced in October. Nearly all Iraqi war veterans will be back in the country before Christmas.
"With our troops coming home from Iraq, now is the perfect time to show our gratitude for everything they have done," said Pete O'Reilly, Director of Marketing for Carrot-Top Industries. "We must honor the bravery and sacrifice of the American service members who have been fighting for us."
About Carrot-Top Industries
Carrot-Top is one of America's largest retailers of patriotic, special event and custom-made products, including flags, banners and flagpoles. The company provides rentals for special events like trade shows and political campaigns, as well as flags and banners to highlight anniversaries and community and school events. Customers can go to http://www.carrot-top.com for the latest sales, buying guides and virtual catalogs.
Carrot Top Industries proudly supports The National League of POW/MIA Families and Fisher House Foundation, providing a "home away from home" for military families to be close to a loved one during hospitalization for an illness, disease or injury.
# # #