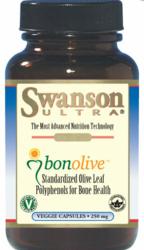 Swanson Health Products announces the latest breakthrough in natural bone support: Swanson Ultra BONOLIVE™
Fargo, ND (PRWEB) November 11, 2011
Swanson Health Products announces the latest breakthrough in natural bone support: Swanson Ultra BONOLIVE™, a revolutionary olive-based bone health supplement. This innovative product has its roots in Mediterranean tradition, where people have long recognized olives' and olive oil's benefits to health, including healthy bone and skeletal development. The phytonutrient oleuropein and other active polyphenols in olives are what make them beneficial to bone health. BONOLIVE can be used on its own to promote bone health, or as a complement to other bone nutrients like calcium and vitamins D and K.
While these components can be found in the fruit of the olives, they are found in greater abundance in the leaves. Research shows that oleuropein works at the cellular level to support bone formation. Unlike other supplements that promote the utilization of minerals, help maintain hormone balance or deliver the building blocks for bones, BONOLIVE works to support bone metabolism and stimulate bone-building cells.
BONOLIVE is produced in the heart of Spain's olive country, near the town of Jaén in the south-central region of the country. It comes from one special variety of olive trees which yield the highest levels of bioactive polyphenols. An exclusive co-op provides the pristine quality leaves (considered to be pharmaceutical grade) required for BONOLIVE production.
Swanson Health Products is an industry leader in bringing vitamins directly to consumers at the lowest prices possible. Swanson Health Products, headquartered in Fargo, ND, offers the highest quality vitamins, supplements and natural health care products and is Good Manufacturing Practices certified. Swanson Health Products goes a step beyond its competitors by offering powerful guarantees. All products are backed by a 100% Satisfaction, Money-Back Guarantee. For more information, please visit http://www.swansonvitamins.com.
###