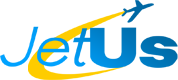 Miami Beach, FL (PRWEB) November 09, 2011
JetUs, a web-based reservation tool that provides a fully integrated system for private charter services, has just partnered with one of the largest privately owned Travel Management Company in Florida, Brickell Travel Management. Brickell Travel Management will now be able to market an additional service for private charter to an untapped segment within their corporate and leisure travel customer base. The technology behind JetUs is a direct correlation and joint venture between JetUs, LLC and Sabre Travel Network, the world's leading travel and collaboration management solution.
JetUs is a system that simplifies the tedious process of booking a charter, and allows customers to find, book and manage private charter services thorough the use of this secure web-based tool. The JetUs technology works with only the highest safety rated operators that have been vetted by independent 3rd party safety auditors. This system was created with the busy executive in mind to ease the process of booking a private jet, while making it more efficient as well as less time consuming. With so many commercial routes being cut out of airlines daily, the private aviation has seen a significant increase in bookings simply due to the fact that it allows executives to save time and money and fly in and out of their destinations with ease.
Brickell Travel Management is an American Express Travel affiliate with over 25 years experience that utilizes only the latest technologies to provide the highest quality of services to their customers who are major Multi-National Firms with worldwide offices, making this relationship between them and JetUs symbiotic. This relationship will introduce charter as a viable option to an untapped customer base and change the way people view and purchase charter services.
About Brickell Travel Management
Brickell Travel Management—in association with CTG—one of the largest, privately owned, Travel Management Company in Florida. With sales exceeding 50 million and 49 associates located throughout North & South America, BTM is strategically prepared to offer the Next Generation of Travel Management. It is an American Express Travel Representative accepting membership rewards points for card holders and the offering the full-range of American Express travel services. The roster of clients includes multinational banks and firms such as Macquarie Bank and the Royal Bank of Canada, and regional divisions of Global companies such as Danone and Richemont Latin America.
About JetUs
JetUs LLC, headquartered in Miami Beach, Florida, is a full-service online marketplace where best-in-class, safety-rated operators are matched with qualified private aviation customers. Launched in 2010, JetUs provides passengers with a dynamic reservation search engine tool for global private air travel, allowing users to instantly receive multiple price quotes from multiple private jet operators for any type of trip around the world.
# # #