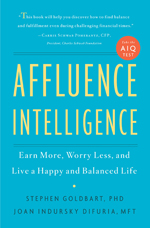 This book will help discover how to find balance and fulfillment even during challenging financial times.
Carrie Schwab Pomerantz, CFP, President Charles Schwab Foundation
(PRWEB) November 10, 2011
Stephen Goldbart, Ph.D. and Joan DiFuria MFT, of Money, Meaning, & Choices Institute (mmcinstitute.com), announce the publication of their book Affluence Intelligence (Da Capo/Perseus, 2011).
The authors have distilled the key ingredients from their work with the 1% who care: wealthy individuals and families who created financially and personally fulfilling lives. By taking the Affluence Intelligence Quotient (AIQ) Test, readers discover their unique AIQ, a map of personal strengths (key attitudes, behaviors, and priorities). The AIQ test results are paired with an increased understanding of how an individual's habits and patterns can get in the way of making the changes necessary to attain success. Readers then make use of a user friendly, step by step program to increase AIQ, and to live the priorities that have been chosen as most important.
Affluence Intelligence is filled with emotionally engaging, unpredictable stories from the 1% who care about living a life that balances money, self-esteem, human connection, and having a positive impact on society.
Review: Curled Up with A Good Book.com
..."More than just a feel-good pep talk, Affluence Intelligence addresses the twisted relationship many of us have with our finances. "….By breaking the concept into small chunks, Goldbart and Difuria have turned what sometimes seems an insurmountable obstacle into an enjoyable adventure. Affluence Intelligence helps readers get a grip on the worry and anxiety and transform fear into power. The program outlined here is concrete and perhaps revolutionary, with the potential to redirect an ages-old but dead-end paradigm into a satisfying and productive road trip to a worthy and fulfilling destination."
Review: Publisher's Weekly
...."They're not content to just teach financial effectiveness or give advice on saving and investing better--they're interested in improving overall quality of life by encouraging people to assess their priorities (without judgment) and live their life in alignment with those priorities. Readers will find this to be a refreshing take on personal finance, psychology, and self-help."
Paul G. Shervish, Director, Center on Wealth and Philanthropy, Boston College
"Goldbart and DiFuria have provided the best workbook on money, meaning, choices, and guidance--for they not only provide a way to measure where we are, but also offer an accessible way to get where we yearn to be."
###