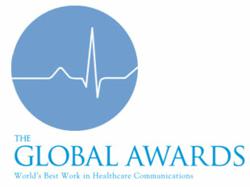 This year's group of judges was on their game and the interaction from this prestigious group matches the incredible work of this year's finalists
New York, NY (PRWEB) November 08, 2011
The Global Awards®, honoring creative and marketing excellence in healthcare communications worldwide, announced the 2011 competition Finalists. The Global Awards Grand Jury selected "The World's Best Healthcare Advertising™," nominating 153 Finalists from 22 countries. Langland UK took the lead the second year in a row with 13 Finalist nominations.
Other prominent international companies receiving Finalist status in the preliminary judging round include: Ward 6 Australia and McCann Healthcare China, each receiving 7 Finalists; Abelson Taylor, Chicago USA, DeVito/Verdi USA, and Torre Lazur McCann England, each with 6 Finalists; McCann Healthcare Australia and PAN Advertising United Kingdom, both received 5 Finalists; and DraftFCB, New York USA, Point Blank Advertising, India and UrsaClemenger, each received 4 Finalists. All nominated Finalists go on to the secondary round of judging to determine medalists.
"This is my 4th year as chairman and I continue to be impressed with the panel of judges and the work submitted. This year's group of judges was on their game and the interaction from this prestigious group matches the incredible work of this year's finalists," commented Tom Domanico, Global Awards Advisory Board Chairman & Draft FCB Healthcare Chairman Emeritus.
This year's Global Awards reported a 20% increase in entries over the previous year's submissions.
The 2011Global Awards will host 2 award events this year, taking the celebrations to the international cities of Sydney, Australia and New York, USA. This year's winners will be officially announced at both events on December 1st.
The Global Awards will honor this year's award winners on Thursday, December 1st, 2011 in New York City, at the Helen Mills event venue located at 137 West 26th Street (between 6th and 7th Avenues). The celebration will begin with a cocktail reception and a print and video showcase of the 2011 award-winning work. Michael Demetriades, Global Awards Executive Director, and Tom Domanico, Global Awards Advisory Board Chairman & Draft FCB Healthcare Chairman Emeritus, will present trophies.
The Global Awards, and Bravo!, a group of Australian Healthcare professionals, will also host a Global Awards ceremony in Sydney, Australia. The gala will take place on Thursday, December 1st, 2011 at Simmer on the Bay, located in Sydney's historic Rocks district. Global award winners and their guests will view a showcase of the award-winning work, followed by an award ceremony hosted by The Global Awards and Bravo!, with representation from healthcare agencies and the Communications Council of Australia.
2011 Global Award winners and attendees are invited to choose the awards ceremony of their choice. To purchase tickets and for more details on the New York and Sydney events, visit: http://www.theglobalawards.com/main.php?p=4,4
Live judging sessions for this year's Global Awards were hosted by the following prominent international agencies: Hammond & Thackeray Melbourne, Australia: HC BCN, Barcelona, Spain; Insight AU Sydney, Australia; Ogilvy Healthworld London, England; Sudler & Hennessey Frankfurt, Germany; and at The Global Awards headquarters in New York, USA.
The Global Awards Grand Jury is comprised of a panel of 95 international industry experts, representing the top creative minds in the field of healthcare advertising from around the globe. The Grand Jury participated in both live judging sessions and online sessions. The Global Awards Board, headed by Board Chairman Tom Domanico, is represented by award-winning health care professionals who guide the judging process and ensure that the competition addresses the needs of the healthcare communications industry.
Now in its 17th year, The Global Awards receives entries from healthcare corporations, hospitals, advertising agencies, production companies, and design studios that produce communications for medical, pharmaceutical, and healthcare related products and services. The Global Awards Advisory Board and GrandJury are comprised of a panel of prominent international industry experts, representing the top creative minds in the field of healthcare advertising.
All Finalists are featured at: http://www.theglobalawards.com, and are promoted by our network of representatives in 75 countries around the world.
All press inquiries are welcome and should be directed to Gayle Mandel: gmandel(at)internationalawardsgroup(dot)com. Phone 212 643 4800.
About the Global Awards
Now in their 17th year, The Global Awards are recognized as the only awards dedicated to excellence in healthcare communications on an international basis.
About International Awards Group organizes advertising and programming competitions for the following brands: AME Awards for Advertising Marketing Effectiveness; Midas Awards for Financial Services Communications; The Global Awards for Healthcare Communications; NYF Advertising Awards; NYF Television & Film Awards; and NYF Radio Programs & Promotions. Entries to each of the competitions are judged around the world by panels of peers in their respective industries. Founded in 1957, IAG and their brands now have representation in 75 countries. For more information, go to http://www.newyorkfestivals.com.
###