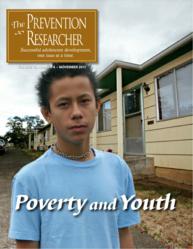 to help youth and families living in poverty, we must move beyond our myths and biases.
Eugene, Oregon (PRWEB) November 14, 2011
"Poverty is a key cause behind many of the problems that our youth are facing today," says Steven Ungerleider, PhD., founding editor of The Prevention Researcher. "With four out of ten American youth experiencing economic hardship, understanding the impact of living in a low-income family is essential for developing effective strategies that support these youth and families."
Poverty among adolescents is a significant factor behind school dropout rates, juvenile delinquency, and difficulties in making a successful transition to adulthood.
In the current issue of The Prevention Researcher, five researchers examine the consequences for youth living in poverty, discuss theories of poverty, describe how poverty affects family functioning and adolescents' well-being, and review the three largest federally-funding education and job training programs for low-income youth.
In her introductory article on "Adolescents and Poverty," Vanessa Wight, PhD. profiles the incidence of poverty among adolescents aged 12 to 17, examines the effects of poverty on the lives of youth, and describes the investment and family process models generally used to explain the impact of poverty on child development.
Dr. Wight concludes that "the need to act is clear, as the costs of adolescent children living in poverty are widely distributed and shared by not only the youth themselves – who pay a high price in lost opportunities and life chances – but also by society, which will be faced with supporting some of these youth for a substantial portion of their adult lives."
Karen Seccombe, PhD. uses a case study of a newly single mother to explore four of the most common explanations for why people are impoverished – individualism, social structuralism, the culture of poverty, and fatalism. She notes that "to help youth and families living in poverty, we must move beyond our myths and biases. First and foremost, poverty is a highly complex phenomenon, and that it is likely that many explanations come into play at once."
Rashmita Mistry, PhD. and Martha Wadsworth, PhD. review the research on how families exacerbate or buffer children's experience of economic risk, then discuss preventive and intervention efforts designed to alleviate the hardships faced by families in poverty and improve the long-term outcomes for children. Their article offers practical suggestions for parents, practitioners, and advocates on accessing resources to help improve the overall health and well-being of low-income children and youth.
Amy Dworsky, PhD. examines the three largest and longest running programs for low-income and at-risk youth: Job Corps, National Guard Youth ChalleNGe, and YouthBuild. She describes the programs in detail and discusses evaluation outcomes of these comprehensive programs.
Dr. Dworsky notes that results of the programs have been "mixed," and concludes that "Perhaps more lasting and positive impacts would be observed if we had a better understanding of how the characteristics that youth bring to the program interact with the program's characteristics. Then young people who are looking for a 'second chance' could be steered toward the program that is most likely to help them make a successful transition to adulthood."
For a preview of a digital edition of The Prevention Researcher on "Youth and Poverty," visit http://www.tpronline.org.
About The Prevention Researcher
Founded in 1994, The Prevention Researcher is published by the non-profit, Integrated Research Services in Eugene, Oregon. The quarterly journal focuses on successful adolescent development and serves professionals who work with young people in a variety of organizational settings.
Each issue of The Prevention Researcher covers a single topic, presenting the latest adolescent behavioral research and findings on significant issues facing today's youth. The journal provides information about programs that create supportive environments for youth, strategies for preventing problems affecting adolescents, and resources that help youth-serving professionals.
# # #