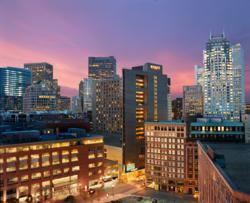 Hyatt Regency Boston has received four prestigious awards attributed to teamwork, ambition and determination.
Boston, MA (PRWEB) November 09, 2011
Within the past ten months, Hyatt Regency Boston has received four prestigious awards attributed to teamwork, ambition and determination. The awards received thus far are the AAA Four Diamond Award, the EPA's ENERGY STAR, the Successful Meetings Pinnacle Award and Meetings Focus Best of the East Award.
The AAA Diamond Rating Process is considered a premier hotel rating program. On a scale from one to five, Diamond ratings are established by member experience, professional evaluators and clear quality standards such as amenities, service standards, degree of hospitality and more. The Boston hotel hopes to achieve AAA Four Diamond rating in subsequent years as well..
From an environmental standpoint, the hotel is extremely proud to have earned the U.S. Environmental Protection Agency's (EPA) prestigious ENERGY STAR for the second year in a row. The ENERGY STAR is the national symbol for protecting the environment through superior energy efficiency. This signifies that the building performs in the top 25 percent of similar facilities nationwide for energy efficiency. General Manager, Philip Stamm states, "It is an incredible achievement to receive the ENERGY STAR in the last three out of four years. Remaining within the EPA'S growing standards for this recognition requires diligence and constant care from our engineering department, as well as each and every associate."
Meeting planners and satisfied clients helped the downtown Boston hotel receive two prominent meeting awards this year, first being the Successful Meetings Pinnacle Award. This is a very significant award, because the recipients are chosen by the readers, based on real meeting experiences. Receiving the Pinnacle Award shows that a hotel is in the forefront of customer service, setting the standard for excellence. Hyatt Regency Boston's Director of Sales, Kierie Heim said, "We are extremely honored to receive this reader-based award from our customers. This type of recognition is a direct reflection of the attention and care our associates put into events large and small."
A few months after receiving the Pinnacle Award, the [Boston hotel was named Meetings Focus Best of the East. Each year a poll takes place among meeting planners to uncover hotels and resorts that display superlative characteristics. These properties are then judged on food and beverage service, guest rooms, amenities and more. The "Best of…" each region is determined by the judges as an elite group of venues across the country.
Overall, Hyatt Regency Boston has been recognized in multiple areas thus far this year. Notable characteristics such as superior customer service, green practices and general hospitality are features the managers and associates focus on every day. In a city full of history, our goal is to make a lasting impression and to become an integral part of the enduring memory. The Hyatt team looks forward to continued success and providing their guests with the best possible experience throughout their time in Boston.
About Hyatt Regency Boston
Hyatt Regency Boston, situated in the heart of the city, provides luxurious accommodations and a prime location to experience everything Boston has to offer. With 30,000 square feet of flexible meeting space, this newly renovated hotel, places you within walking distance to boutique shopping, numerous theatres, lively nightlife and many historic tourist attractions. Enjoy the hotel's extensive, 24-hour fitness center featuring an indoor swimming pool, eucalyptus steam room, sauna and therapeutic massage services. Spectacular views, convenient location and unparalleled service make Hyatt Regency Boston the perfect hotel for any occasion.
# # #