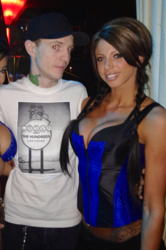 He was a big hit with the girls and guests as they were all lined up to meet him at his table
Las Vegas, NV (PRWEB) November 09, 2011
Progressive House Artist, Joel Thomas Zimmerman, better known by his stage name Deadmau5 (pronounced "dead mouse"), was at Sapphire Gentlemen's Club, Las Vegas, Nevada, Halloween night seated in Sapphire's Rockstar VIP section with his manager and female entourage following his Halloween performance at a nearby casino nightclub. Zimmerman, known for often performing in a large costume mouse head, enjoyed Dom Perignon, Patron Platinum, and Coronas.
"He was a big hit with the girls and guests as they were all lined up to meet him at his table when they found out he was in the club. He spoke to his fans all night long. The girls said he was very friendly and eager to talk about himself and his music. He stayed for a few hours and said he would be back again." adds John Lee, General Manager at Sapphire Gentlemen's Club, world's largest strip club.
Zimmerman was invited by Manger Manager Steele Lishnoff to come back and play in the club's upcoming, annual Ping Pong Palooza hospitality industry ping pong tournament on November 22nd.
A photo of the night out shows Deadmau5 enjoying the action at the strip club with one of the lovely Sapphire cocktail servers.
Sapphire Gentlemen's Club, located at 3025 S. Industrial Road in Las Vegas, is the largest strip club in the world, with well over 70,000 square feet of topless entertainment. The club is open 24/7, 365 days a year to patrons 21 and over and features over 400 entertainers per night with premium alcohol and cigars for the customers. The massive Main Room houses three stages including the popular SkyStage over the famous RockStar VIP section with its clear catwalk to the private SkyBoxes. Sapphire serves the finest variety of cocktails, wines, champagne and cigars.
Sapphire Gentlemen's Club celebrates its 9th anniversary on December 15th with a "Rat Pack" themed event commemorating the name change of Industrial Road to Sammy Davis Junior Parkway. The evenings festivities will feature the big band sounds of Zowie Bowie and special performances by the members of the Rat Pack Tribute Show along with food and drinks.
For reservations call 702.869.0003 or book online at http://www.SapphireLasVegas.com. Call 702.303.3430 for free limo transportation from the Strip and for special offers and updates follow Sapphire LV on twitter @sapphirelv.
###