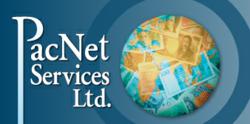 Vancouver, BC (PRWEB) November 08, 2011
PacNet Services, a Vancouver-based company that offers both inbound and outbound international payment processing services to companies around the globe, has confirmed plans to attend the CCTA Annual Conference and Dinner Gala in Nottingham, November 10, 2011. PacNet's presence will give attendees of the conference an opportunity to access expert knowledge of international payment services as they specifically relate to PayDay lenders.
Visitors to the PacNet booth will benefit from the focused attention of Brian Weekes, Head of Sales - Europe for PacNet Services. "I'm absolutely looking forward to the opportunity to connect with attendees of the CCTA conference," states Weekes, "our international payment processing services are a perfect fit for PayDay lenders. We understand the industry – our services add value while saving time and money, and it doesn't get better than that." For over 17 years, PacNet has been a leading force in the international payment processing arena – thanks to scalable solutions, sturdy relationships with bank managers, a premier industry reputation and unparalleled global financial knowledge.
The CCTA Annual Conference and Gala Dinner will focus on economy, enterprise and growth. Dubbed the 'Keep Calm and Carry On' conference, it is about changing stumbling blocks into stepping stones. The CCTA predicts that the economic tide will turn, and growth will come; the conference will fuel an industry wide preparedness for that occasion. Speakers will include government representatives and industry experts alike, with practical workshops in the afternoon on emerging markets, payday lending, competency and compliance.
About PacNet Services:
Vancouver based PacNet Services is an international payment processing company that offers a diverse range of both inbound and outbound payment processing services for companies around the globe. Some of the international payout services offered by PacNet include electronic transfer, such as CHAPS, Faster Payments, prepaid cards and more. For inbound payments, clients have access to debit card processing, direct debit, cheque clearing and inbound bank transfer.
###