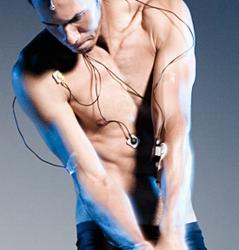 Plug and play bio and neurofeedback sensors now available for National Instruments Labview Solutions
(PRWEB) November 09, 2011
Thought Technology Ltd. (TTL) is addressing the needs of Institutional Life Science Laboratories to find biologic signal measurement sensors of outstanding quality at a reasonable price, by officially launching its new Science Division to offer research solutions and services with its existing biofeedback product line.
The recent release of the new Thought Technology Sensor Isolator now safely bridges TTL's line of medical grade sensors to analog inputs of commonly found line-powered systems, such as computers with data acquisition cards (e.g. National Instruments, http://bit.ly/pBzokh, Measurement Computing, Advantech, Data Translation, ADlink Technologies and other vendors).
With these new product and service offerings, Thought Technology is expanding its solid and highly respected position in the neurofeedback and biofeedback market into the institutional clinical and research market, by providing safe, reliable and affordable biosignal sensors.
In 1975, Thought Technology introduced the world's first and best-selling handheld biofeedback device for the clinician, consumer and athletic markets resulting in sales of over 600,000 units to date. From this innovative beginning, TTL has continued significant investments in R&D, creating products designed for a variety of bio-signal markets, where the attention to detail in design and user experience, has made each line of products highly respected leaders in their respective industries. Once again Thought Technology has demonstrated that it has a strong hold on the present and a keen eye on the future.
About Thought Technology Ltd.
Founded in 1975, Thought Technology is the world's leading biofeedback and physiological instrument manufacturer. Its products are used as an essential part of many therapeutic treatments and clinical assessment protocols in over 85 countries and are used by tens of thousands of clinicians in thousands of medical institutions. Each year, it puts together over 100 clinical workshops, taught by world authorities in their fields. Because of its profound commitment to clinical education, Thought Technology became the corporate founding member of the Biofeedback Foundation of Europe, http://www.bfe.org, which was created to promote a greater awareness of biofeedback among health professionals worldwide.
Always supportive of new research and development ideas, Thought Technology Ltd. has encouraged a number of special interest groups and clinicians to create cutting edge applications for its instrumentation. Thought Technology Ltd. equipment is now being used in telemedicine, web-based monitoring and biofeedback, sports training, research in human-machine interface, physiology-driven multimedia environments and virtual reality. Constantly striving to improve the quality of the products and services, TTL has obtained, and maintains, ISO 13485, and CE certification for the organization and products, with a distribution network spanning over 150 distributors and dealers in 55 countries.
Thought Technology will be exhibiting at Medica November 16th to the 19th in Dusseldorf, Germany - Visit them in Hall 16 – G50.
Enquiries:
Thought Technology Ltd.
1-514-489-8251
http://www.thoughttechnology.com
mail(at)thoughttechnology(dot)com
Dr. Hal K. Myers - President
Lawrence Klein - Vice President
Steeve Asselin – Project Manager, Science Division
# # #