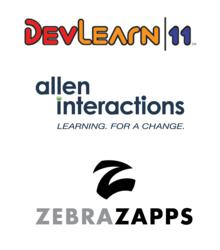 For the e-learning market this represents a groundbreaking combination of functionality, flexibility, and delivery services integrated into a single low-cost price point.
(PRWEB) November 09, 2011
ZebraZapps uses a unique and stunningly productive user interface, cutting to the heart and power of object-oriented programming. Although other non-scripting authoring tools exist, Zebra's visual logic allows authors to create interactions that manipulate any property of any object at runtime. It's far quicker than coding and nearly as flexible.
Features
Here are some unique features and capabilities of ZebraZapps:
Objects & Message Centers
Each object in ZebraZapps has a compact message center housing every related property, method, and behavior. By simply dragging wires between objects, logic is created to bind object properties together, impose actions via condition or user input, or pass data. These simple authoring gestures can create real time multi-player games and simulations and pretty much every form of eLearning.
Logic Tables
Advanced decision logic in ZebraZapps is created through the use of intelligent tables capable of judging complex conditions, order, completion, and states. These advanced, yet accessible logic objects empower authors to visually program the consequences of multi-gesture interactions without writing advanced algorithms or any scripts.
Run While Editing / Edit While Running
Authors can instantly see the consequences of their logic while wiring. Draw button and wire it. It works instantly. This unique development characteristic omits the traditional wait and surprise of tools that edit in a more modal development environment. In the reverse, ZebraZapps authors are also empowered to edit a running project and make corrections and additions instantly within context. There has never been a more immediate authoring environment for authoring, debugging, maintenance, and updating.
Sketching & Prototyping
ZebraZapps is the first authoring tool to enable users to sketch interactivity to build shockingly fast prototypes. Any interactive sketch created in ZebraZapps can be instantly replaced with production art, sound, and video at anytime, allowing authors to build and evaluate complex simulations without waiting for final artistic design and media assets.
Reusable Learning Objects
ZebraZapps is the first integrated cloud-based system where authors can create reusable and extendable objects called gadgets. The Gadget Shopp, accessible directly from the ZebraZapps editor, is a revolutionary new marketplace for publishing, sharing, and selling reusable and extendable objects. ZebraZapps authors may find distribution of their reusable objects generating professional recognition and income.
Account Creation & Cost
ZebraZapps is offered as an SaaS, and immediately offers its first tier of service free for 60 days, and after that, just $8.99 per month. For the eLearning market this represents a groundbreaking combination of functionality, flexibility, and delivery services integrated into a single low-cost price point.
Sign up for a free 60-day trial.
ZebraZapps comes from Dr. Michael Allen, the primary architect of Authorware and the chairman and CEO of Allen Interactions and Allen Learning Technologies. He is widely respected for his abilities to define, design, and build tools that allow creative individuals to harness the potential of evolving interactive multimedia technologies. In recent years, he has concentrated on creative application design and defining unique methods for developing meaningful and memorable learning applications that fully engage the mind.
About Allen Interactions
Allen Interactions is an internationally-acclaimed company focused on improving performance through powerful learning experiences. Since 1993, we have designed and developed custom eLearning and blended learning solutions addressing many different content areas for varying audiences (employees, channel partners, and customers) for many leading organizations. With multiple locations in the U.S., we have deep experience and expertise in instructional design, technology, creativity, process, and project management that allows us to create learning solutions that consistently result in positive business impact.
###